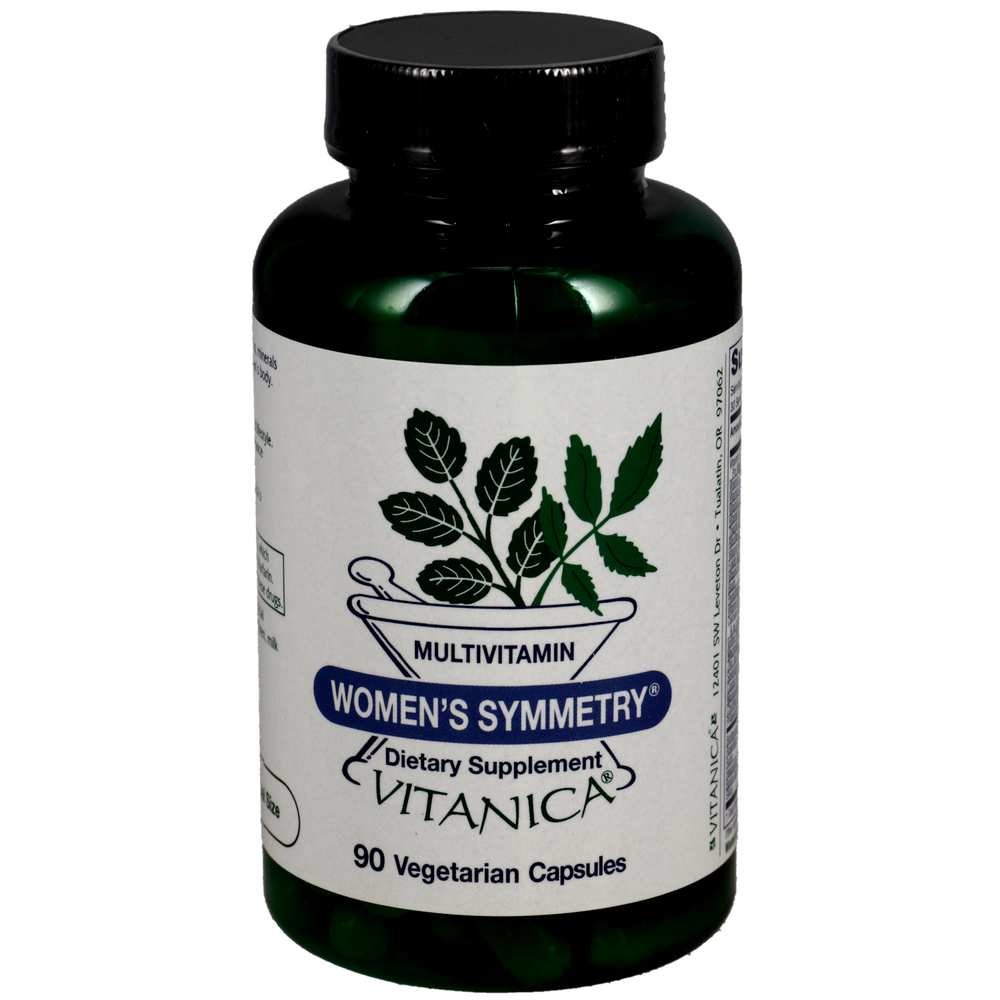 SKU: VTC-01002
Womens Symmetry is available by Vitanica.
MULTIVITAMIN
WOMENS SYMMETRY®
Dietary Supplement
VITANICA®
More Info:
Our hypoallergenic preservative free, high potency, multiple vitamin and mineral supplement has been specifically designed for nutritional needs and preventative health factors that are important for women. Unique in our formulation is a higher amount of folic acid, Betatene® (includes 6 natural carotenoids), and calcium and magnesium citrate - malate. We have selected premium forms of our nutrients to ensure maximal absorption and effect. Our multiple contains no artificial colorings or flavorings, sucrose, glucose, starch, lactose, salt, corn, wheat, soy or milk derivatives.
Suggested Use:
As a dietary supplement for females above age 12 (to be taken at meals).
* 1-2 capsules daily complement a balanced diet and lifestyle.
* 3-4 capsules daily provide a well-balanced maintenance and therapeutic level of supplementation.
* 5-6 capsules daily provide high potency supplementation for chronic illness, high stress, and athletes.
Serving Size: 3 Capsules
Vitamin A (as retinyl palmitate) ... 1250 IU
Pro Vitamin A ... 5000 IU
(as natural mixed carotenoids)
Vitamin C ... 500mg
(as calcium ascorbate, buffered 500)
Vitamin D2 (as ergocalciferol) ... 200 IU
Vitamin E ... 200 IU
(as d-alpha tocopheryl succinate)
Vitamin K (as phylloquinone) ... 15mcg
Thiamin (as Vitamin B1, thiamin HCL) ... 50mg
Riboflavin ... 50mg
(as Vitamin B2, as riboflavin-5-phosphate, riboflavin)
Vitamin B6 (as pyridoxine HCL) ... 50mg
Folate (as L-5-Methylfolate) ... 500mcg
Vitamin B12 (as methylcobalamin) ... 75mcg
Biotin ... 150mg
Pantothenic Acid ... 50mg
(as Vitamin B5, as d-Cal Panthenate)
Vitamin B3 (inositol hexaniacinate) ... 50mg
Calcium ... 271mg
(as citrate-malate. 210 mg & as calcium ascorbate 61 mg)
Iodine (from kelp) ... 75mcg
Magnesium (as citrate-malate) ... 100mg
Zinc (as picolinate) ... 10mg
Selenium (as L-Selenomethionine) ... 75mcg
Copper (as aspartate) ... 1.5mg
Manganese (as citrate) ... 5mg
Chromium (as polynicotinate) ... 50mcg
Potassium (as citrate) ... 50mg

Bioflavonoids (from citrus) ...200mg
Rutin ...5mg
Hesperidin ...5mg
Boron (as citrate) ...1.5mg
Silica ...250mcg
Other Ingredients:
Vegetable Capsule (cellulose and water)
Does Not Contain - Preservatives, binders, artificial colorings or flavorings, sucrose, glucose, starch, lactose, salt, corn, wheat, soy, milk derivatives
If you are pregnant or nursing, please consider Vitanicas Maternal Symmetry™.
Womens Symmetry® contains Vitamin K, which inteferes with the prescription drugs Coumadin and Warfarin. Do not take Womens Symmetry® if taking either of these drugs.
Tamper resistant: please do not use if safety seal is broken or missing.
Keep in a cool, dry place out of reach of children.