A-Biotic Immune+ 100mg
Protocol for Life Balance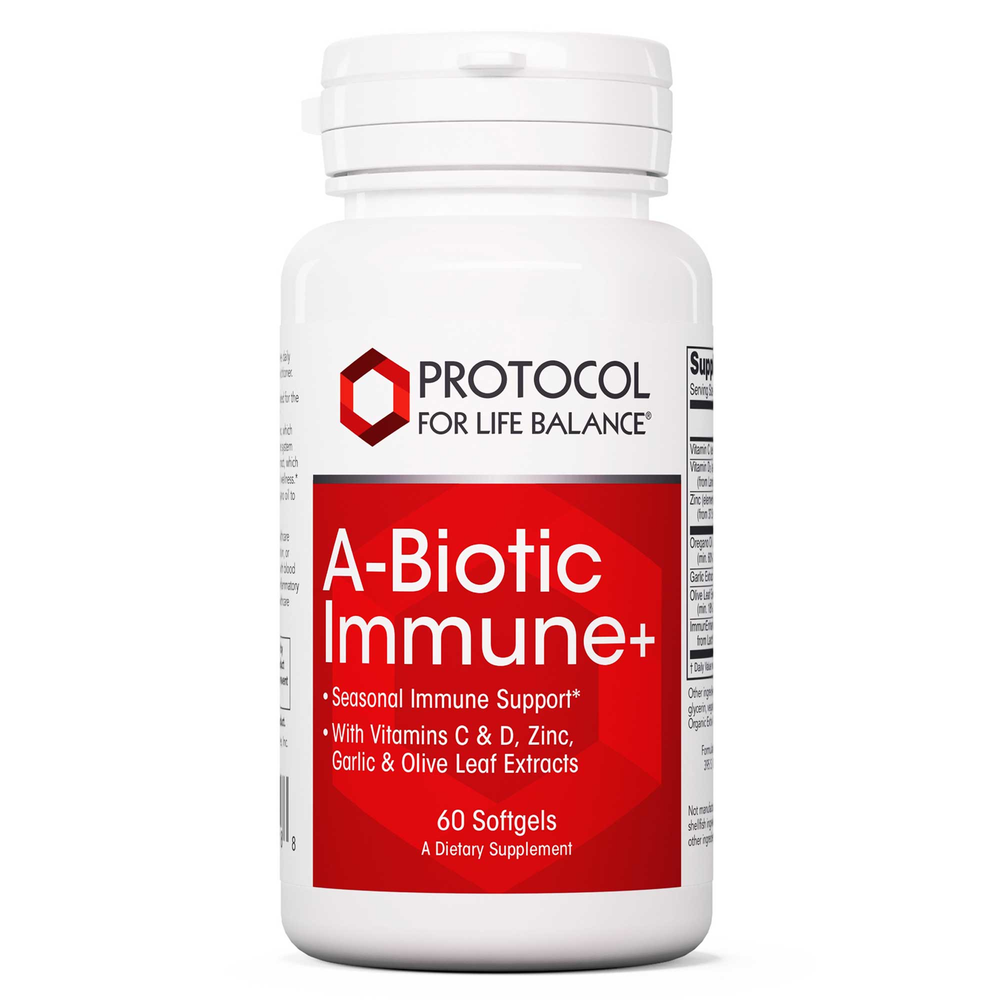 SKU: PROT-P1818
A-Biotic Immune+ is formulated for the support of seasonal immune system function.* This formula contains vitamins C and D plus zinc, which are nutrients that are critical for healthy immune system function.* A-Biotic Immune+ also has garlic extract, which has been used for centuries to promote overall wellness.* We've also included olive leaf extract and oregano oil to complete this comprehensive formula.

Suggested Use:
Take 1 softgel 1 to 2 times daily with food, or as directed by your healthcare practitioner.

Serving Size: 1 Softgel

Amount Per Serving
Vitamin C ... 100 mg
(as Ascorbic Acid)
Vitamin D3 ... 25 mcg (1,000 IU)
(as Cholecalciferol)(from Lanolin)
Zinc (elemental) ... 7.5 mg
(from 37.5 mg Zinc Bisglycinate) (TRAACS™)
Oregano Oil ... 73 mg
(Origanum vulgare)
(min. 60% Carvacrol) (Leaf and Twig)
Garlic Extract ... 50 mg
(Allium sativum) (Bulb)
Olive Leaf Extract ... 50 mg
(Olea europaea)(min. 18% Oleuropein)
ImmunEnhancer™ ... 10 mg
[Arabinogalactan from Larch Tree (Larix laricina)]

Other Ingredients: Softgel Capsule [bovine gelatin (BSE-free), glycerin, vegetarian enteric coating, water, organic caramel color], Organic Extra Virgin Olive Oil, Beeswax and Sunflower Lecithin
Consult your healthcare practitioner if pregnant/nursing, taking medication, or have a medical condition. Garlic may interact with blood thinning medications. If you are taking any anti-inflammatory or anti-coagulant medications, consult your healthcare practitioner before taking this product.