AdrenoActive
Nutra BioGenesis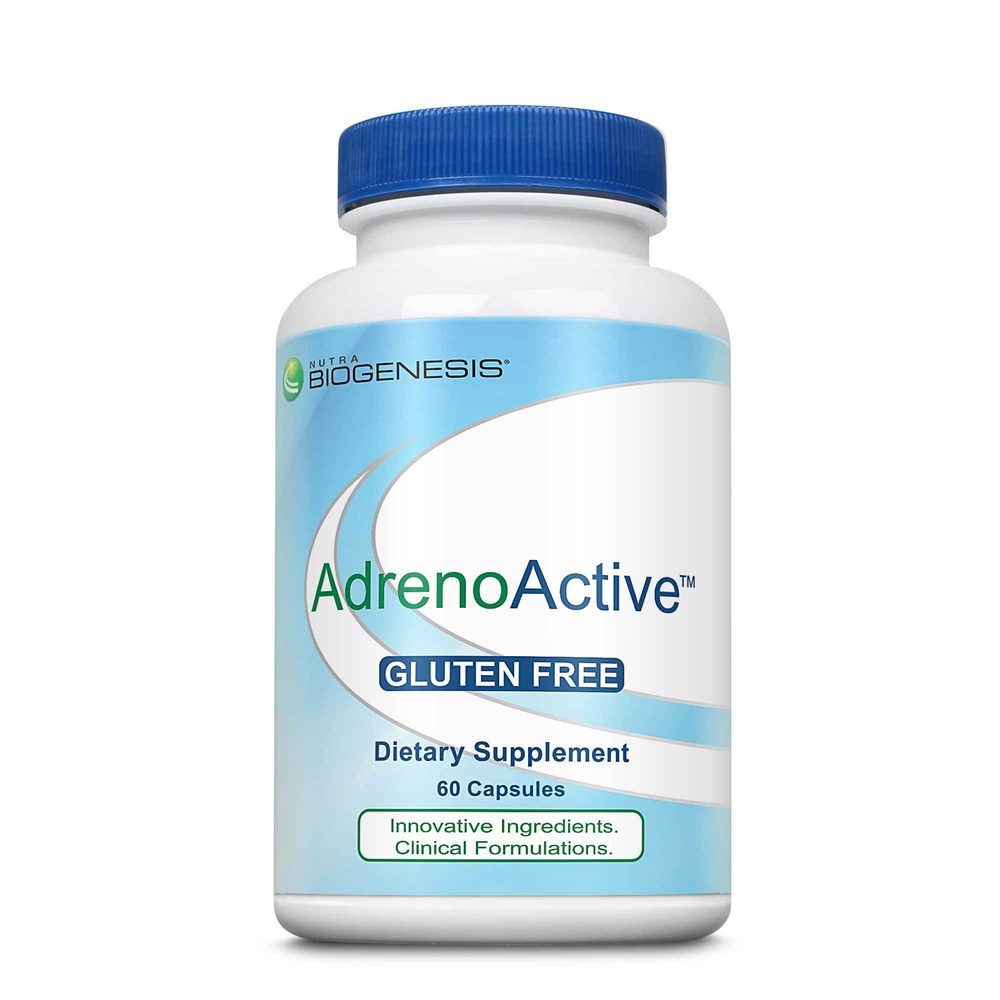 SKU: BI5-23686
AdrenoActive is intended to provide nutritional support for healthy adrenal function and superoxide dismutase (SOD) activity.


Suggested Use:
As a dietary supplement, take 1 capsule twice per day with meals or as directed by your healthcare professional.
Serving Size: 1 Capsule
Amount Per Serving
Vitamin C ... 100mg
(from ascorbic acid, ascorbyl palmitate)
Vitamin E ... 30IU
(from D-alpha tocopheryl succinate)
Thiamin ... 2mg
(from thiamine mononitrate)
Riboflavin ... 2mg
(from riboflavin-5-phosphate)
Niacin ... 10mg
(from niacinamide)
Vitamin B6 ... 5mg
(from pyridoxal 5-phosphate monohydrate)
Vitamin B-12 ... 50mcg
(from methylcobalamin)
Pantothenic acid ... 40mg
(from calcium pantothenate)
Magnesium ... 20mg
(from magnesium amino acid chelate)
Zinc ... 10mg
(from zinc picolinate)
Copper ... 1mg
(from copper gluconate)
Manganese ... 3mg
(from manganese gluconate)
L-tyrosine ... 100mg
L-Theanine ... 50mg
Ashwagandha ... 50mg
(Withania somnifera)(root extract)(5% withanolides)
Holy Basil ... 25mg
(Ocimum tenuflorum)(aerial extract)(2.5% ursolic acid)
Ginkgo ... 25mg
Gotu Kola ... 25mg
(Centella asiatica)(aerial)
Magnolia ... 25mg
(Magnolia officinalis)(bark extract)(2% honokiol)
Schisandra ... 25mg
(Schisandra chinensis)(berry extract)(9% schisandrins)
Phosphatidylserine ... 15mg
(soy)
Lithium ... 20mcg
(from lithium aspartate)

Other Ingredients: Vegetable cellulose capsule, rice flour, silica, cellulose.