Ancient Glandulars - Liver
Ancient Nutrition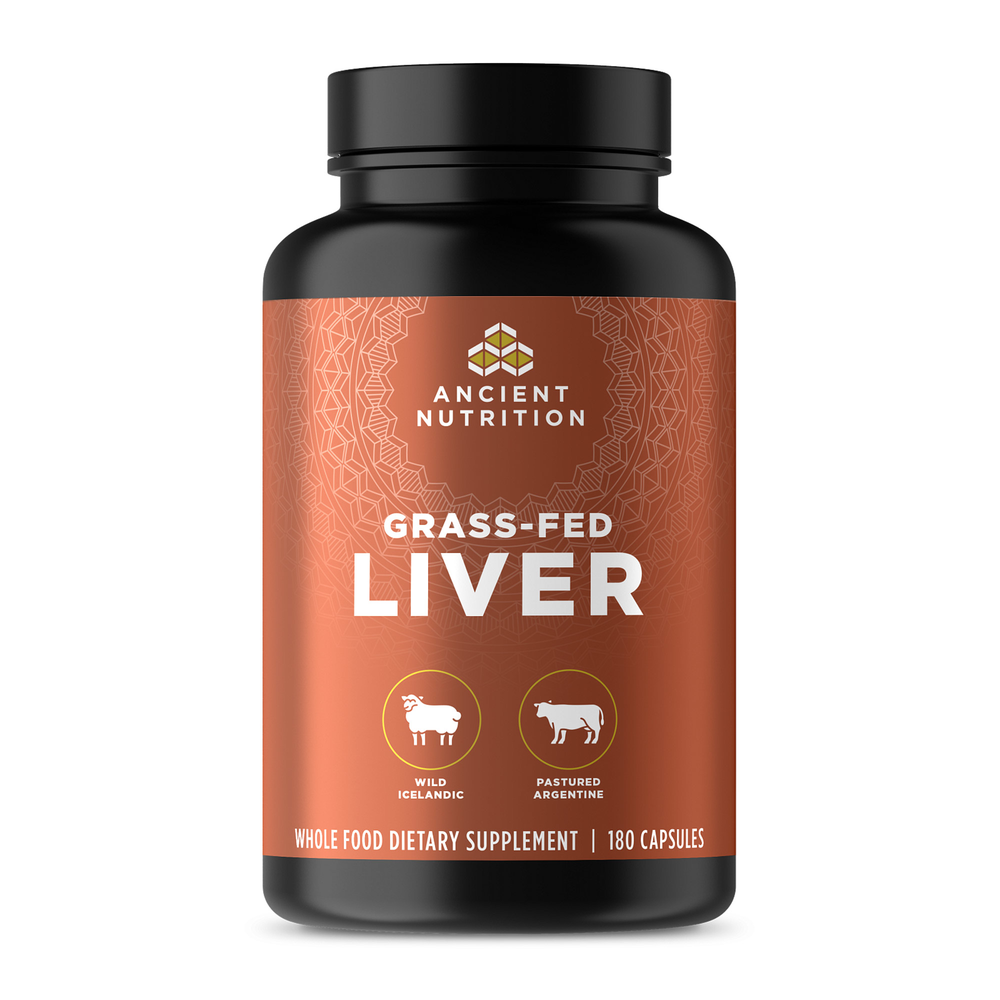 SKU: ANU-AGC6309
Let's recapture what the modern diet lacks with the number 1 nutrient-filled superfood on the planet. This wild, grass-fed liver blend is packed with vitamins, minerals and more to promote optimal liver health.*

Highlights
• Combines bovine & ovine liver with plants, mushroom & probiotics
• Sourced from grass-fed Argentinian beef & wild, free-roaming Icelandic lambs
• Supports liver health & healthy blood*
• Supports healthy detoxification*
• Supports healthy energy metabolism, endurance & performance*
• Supports healthy hormones*
• Supports immune system health*
• Reduces occasional constipation, gas & bloating*
• Promotes healthy elimination & digestive function*

Patented Six Kingdom Approach
The modern diet usually includes plant, animal, occasional fungi and some bacteria (usually not enough beneficial bacteria) sources, but we're missing out on the incredible benefits of the other kingdoms. Combining elements from every biological kingdom is the best way to create a diet that brings you energy and nutrients, optimized for your body to absorb. That's why we've taken a six kingdom approach to each blend: every serving includes beneficial compounds from each of the six biological kingdoms – Plant, Animal, Funghi, Bacteria, Archaea, and Protist.

Wild, Grass-Fed Liver
Liver is considered the No. 1 nutrient-filled superfood on the planet – and for good reason. It's packed with higher amounts of vitamins and minerals than any muscular tissue, plus it's an incredible source of fat-soluble vitamins (the easiest form for your body to absorb and retain). Liver also has a high protein content, a premium amino acid profile, and brings you organ-specific nutrients and enzymes – which means eating liver can help promote a healthy liver.*

SBO Probiotics
Our organ blends includes 2 billion CFU (at time of manufacture) of an SBO probiotic strain called Bacillus coagulans. SBO, or soil-based organism, probiotics are a particularly resilient and effective strain. Unlike probiotics that need to be refrigerated to survive, SBO probiotics actually thrive in harsh environments (like the gut). We've included it to provide added support for a healthy gut, digestive function, healthy bowel transit time and healthy gut flora.*


Suggested Use:
Adults take 6 capsules per day

Serving Size: 6 Capsules

Amount Per Serving:
Vitamin B12 ... 6 mcg
(as Fermented Cyanocobalamin from Organic Saccharomyces cerevisiae, Ancient Liver Blend)
Iron ... 6 mg
(Enzyme Activated, Ancient Liver Blend)
Ancient Liver Blend ... 3.7 g
Grassfed Bovine Liver, Organic Beet Root, Grassfed Ovine Liver, Organic Spirulina, Lipase Complex, Organic Reishi Mushroom Extract, Organic Fermented Milk Thistle, Shilajit.
Bacillus coagulans (2 Billion CFU) ... 14 mg

Other Ingredients: Bovine gelatin capsule, organic Copernicia cerifera wax.

Contains: Seeds. Patented Formula.

Does not contain: Gluten Free, Made Without Dairy, Made Without Grains, Made Without Soy, Made Without Nuts, Non-GMO, Raised Without Hormones, Raised Without Antibiotics, BPA Free.


If you are pregnant, nursing, allergic, have a medical condition, or taking any medications, consult a doctor before using this or any other dietary supplement.