Ancient Glandulars - Male Performance
Ancient Nutrition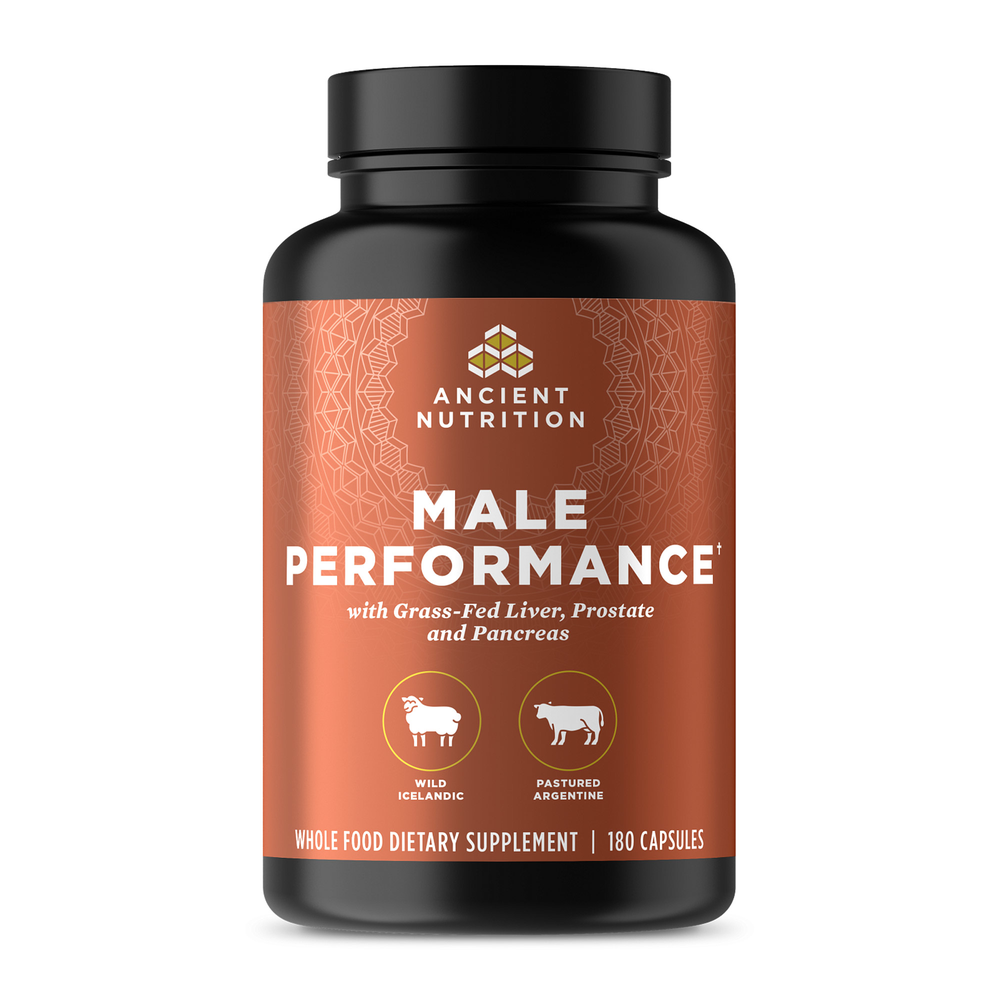 SKU: ANU-AGC6323
Let's recapture what the modern diet lacks. This wild, grass-fed organ blend is packed with male-specific nutrients to help you feel energized, youthful and ready for your best years yet.*

Highlights
• Combines 13 organs & glands with superfoods & probiotics
• Sourced from grass-fed Argentinian beef & wild, free roaming Icelandic lambs
• Supports healthy male performance, youthfulness & vigor*
• Supports men's health*
• Supports healthy hormones*
• Supports immune system health*
• Reduces occasional constipation, gas & bloating*
• Promotes healthy elimination & digestive function*

Ingredients for Male Health
This blend combines organs, glands and superfoods designed specifically for men's performance and vitality.* That means bovine and ovine liver, heart, adrenals, prostrate, orchic (testicular), pituitary and more. You'll also get organic cordyceps and fenugreek seeds – both time-tested superfoods for men's health – 10mg zinc, and 100mcg selenium. Together, this formula delivers powerful support to help men feel energized, youthful and ready for their best years yet.*

Wild, Grass-Fed Organ Blends
Organs are packed with vitamins, minerals, amino acids, polypeptides, fatty acids and more. They're an incredible source of fat-soluble vitamins (the easiest form for your body to absorb and retain) – and they're even considered adaptogens. That means they help your body adapt to the effects of environmental stressors and promote balance.*

Our beef sources are 100% bovine organ or gland powder. They're from Argentina and they're grass-fed, Non-GMO and made without additives or pesticides. Our ovine (lamb) organs are sourced from Iceland. They are wild, free-roaming lambs raised in nature since 874.

SBO Probiotics
Our organ blends includes 2 billion CFU (at time of manufacture) of an SBO probiotic strain called Bacillus coagulans. SBO, or soil-based organism, probiotics are a particularly resilient and effective strain. Unlike probiotics that need to be refrigerated to survive, SBO probiotics actually thrive in harsh environments (like the gut). We've included it to provide added support for a healthy gut, digestive function, healthy bowel transit time and healthy gut flora.*

Suggested Use: Adults take 6 capsules per day

Serving Size: 6 Capsules

Amount Per Serving:
Zinc ... 10mg
(Enzyme Activated, Male Performance Blend)
Selenium ... 100mcg
(Fermented from Organic Saccharomyces cerevisiae, Male Performance Blend)
Male Performance Blend ... 3.7 g.
Grassfed Bovine Liver, Organic Beet Root, Grassfed Bovine Orchic, Grassfed Bovine Prostate, Grassfed Bovine Pancreas, Grassfed Bovine Whole Pituitary, Organic Spirulina, Grassfed Ovine Liver, Grassfed Bovine Heart, Grassfed Ovine Heart, Grassfed Bovine Kidney, Grassfed Ovine Kidney, Grassfed Bovine Adrenal, Grassfed Bovine Aorta, Grassfed Bovine Anterior Pituitary, Lipase Complex, Organic Cordyceps Mushroom Extract, Organic Fermented Fenugreek Seed, Shilajit.
Bacillus coagulans ... 14mg
(2 Billion CFU¹)

Other Ingredients: Bovine gelatin capsule, organic Copernicia cerifera wax.

Contains Seeds, Yeast (from selenium 0.2%, Saccharomyces cerevisiae). Patented formula.

Does not contain: Gluten Free, Made Without Dairy, Made Without Grains, Made Without Soy, Made Without Nuts, Non-GMO, Raised Without Hormones, Raised Without Antibiotics, BPA Free.

¹At time of manufacture.
If you are pregnant, nursing, allergic, have a medical condition, or taking any medications, consult a doctor before using this or any other dietary supplement.