Ancient Glandulars - Women's Vitality
Ancient Nutrition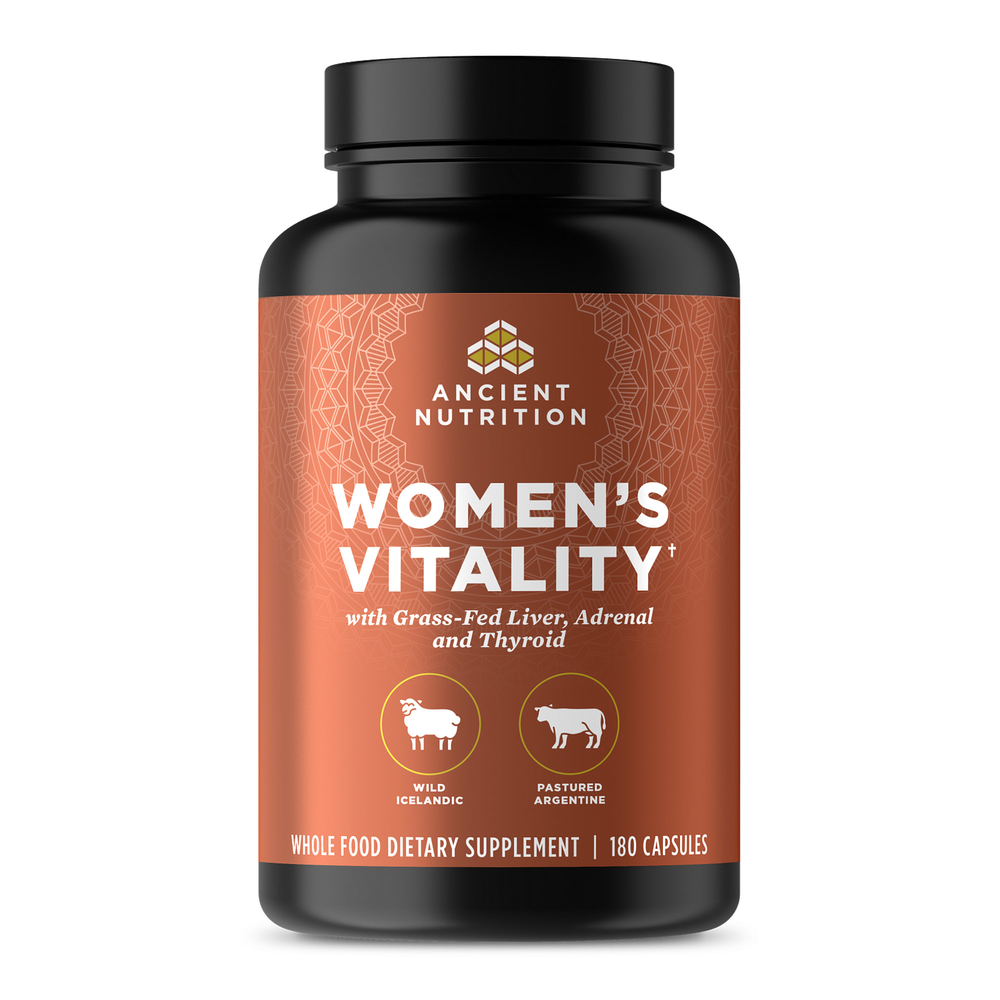 SKU: ANU-AGC6330
Consuming glandulars and taking glandular products is not new; historically, people have consumed the glands and various other parts of animals, such as the liver, kidneys and heart, for nourishment and overall health purposes. Often referred to as "Nature's multivitamin/mineral," organ meats are nutrient-filled—packed with iron, protein, vitamin A, B12 and folate, and many other important nutrients.

Features:
Bovine Liver, Bovine Heart, Bovine Kidney, Bovine Adrenal, Bovine Pancreas, Ovine Liver, Ovine Heart, Ovine Kidney
Bacillus coagulans

Benefits:
• Promote overall health and wellbeing*
• Supports liver, heart, kidney, adrenal, pancreas, thyroid, uterine, and ovarian health*
• Supports women's reproductive health*
• Supports women's health*
• Supports immune system health*
• Reduces occasional constipation, gas and bloating*
• Relieves symptoms of flatulence, abdominal distension and discomfort*

Suggested Use: Adults take 6 capsules per day

Serving Size: 6 Capsules

Amount Per Serving:
Vitamin D3 (Fermented from Organic Saccharomyces cerevisiae, Women's Vitality Blend) ... 25 mcg
Vitamin K2 (as menaquinone-7, Women's Vitality Blend) ... 200 mcg
Vitamin B12 (as Fermented Cyanocabalamin from Organic Saccharomyces cerevisiae, Women's Vitality Blend) ... 24 mcg Iron (Enzyme Activated, Women's Vitality Blend) ... 6 mg
Iodine (Enzyme Activated, Women's Vitality Blend) ... 290 mcg Women's Vitality Blend ... 3.7 g
Grassfed Bovine Liver, Organic Beet Root, Grassfed Bovine Adrenal, Grassfed Bovine Thyroid, Grassfed Bovine Pancreas, Organic Spirulina, Organic Chaga Mushroom Extract, Grassfed Bovine Uterus, Grassfed Bovine Ovary, Grassfed Ovine Liver, Grassfed Ovine Heart, Grassfed Bovine Kidney, Grassfed Ovine Kidney, Grassfed Bovine Mammary, Lipase Complex, Organic Fermented Holy Basil, Organic Fermented Kelp, Grassfed Bovine Whole Pituitary, Grassfed Bovine Placenta, Shilajit. Bacillus coagulans (2 Billion CFU) ... 14 mg

Other Ingredients: Bovine gelatin capsule, organic Copernicia cerifera wax.

Contains: Soy (not detected in finished product, from vitamin K2), Yeast (from Saccharomyces cerevisiae). Patented formula.

Does not contain: Gluten Free, Made Without Dairy, Made Without Grains, Made Without Nuts, Non-GMO, Raised Without Hormones, Raised Without Antibiotics, BPA Free.
If you are pregnant, nursing, allergic, have a medical condition, or taking any medications, consult a doctor before using this or any other dietary supplement.