Antioxidant Formula
Pure Encapsulations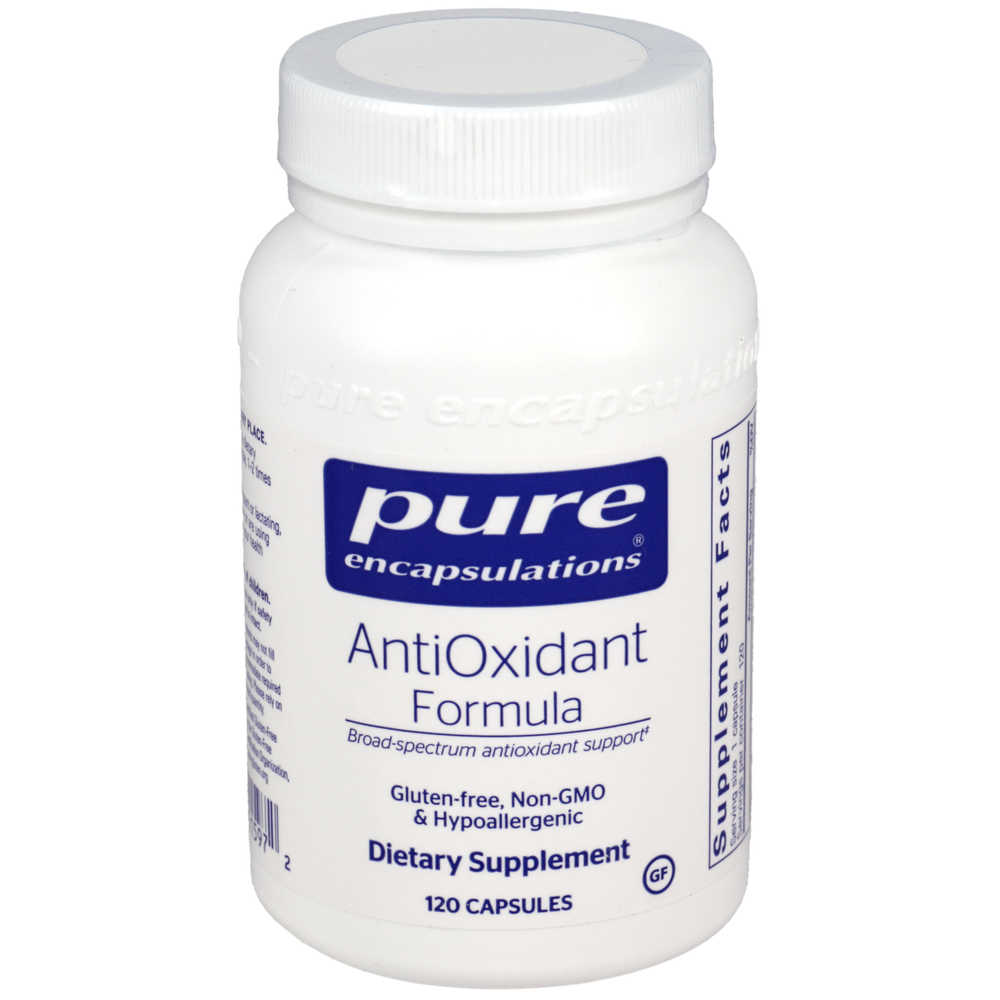 SKU: PUR-AO21
AntiOxidant Formula is a dietary supplement that is designed to help protect cells against free radical damage. AntiOxidant Formula also provides support for the bodys natural defense mechanisms against free radicals.*
Protection against free radicals*
Helps to support the bodys natural defense mechanism against free radicals*
Made with essential vitamins and minerals such as vitamin A, E, and B complex vitamins
Made with hypoallergenic ingredients
Supplementation with antioxidants such as vitamins C and E has been growing rapidly in the past few years as research on harmful free radicals intensifies. Free radicals are atoms, ions, or molecules with one or more unpaired electrons that bind to and destroy cellular compounds. Dietary antioxidants disarm free radicals through a number of different mechanisms. Foremost, they bind to the free electrons, pairing up with them, creating an innocuous cellular compound that the body can eliminate as waste. The antioxidants in this formula also support and enhance the bodys natural defense mechanisms against free radicals: the enzymes superoxide dismutase, catalase, and glutathione peroxidase. Recent research points to the fact that a synergistic combination of antioxidants is more effective than the total effect of each antioxidant taken alone.
Take 1 capsule, 1-2 times daily, with meals.

Serving Size: One Vegetarian Capsule
Amount Per Serving
Vitamin A ... 3,000mcg
(as beta carotene)
Vitamin E ... 67mg
(as d-alpha tocopherol succinate)
Riboflavin ... 25mg
(vitamin B2)
Zinc ... 5mg
(as zinc picolinate)
Selenium ... 100mcg
(as selenomethionine)
N-Acetyl-L-Cysteine ... 100mg
(NAC)(free-form)
Milk Thistle Extract ... 100mg
(silybum marianum)(seed)
(standardized to contain 80% silymarin)
Proprietary Mixed Carotenoid Blend ... 500mcg
(from lutein, lycopene and zeaxanthin)
Other Ingredients: ascorbyl palmitate, vegetarian capsule (cellulose, water)
If pregnant or lactating, consult your physician before taking this product.