B-Supreme
Designs for Health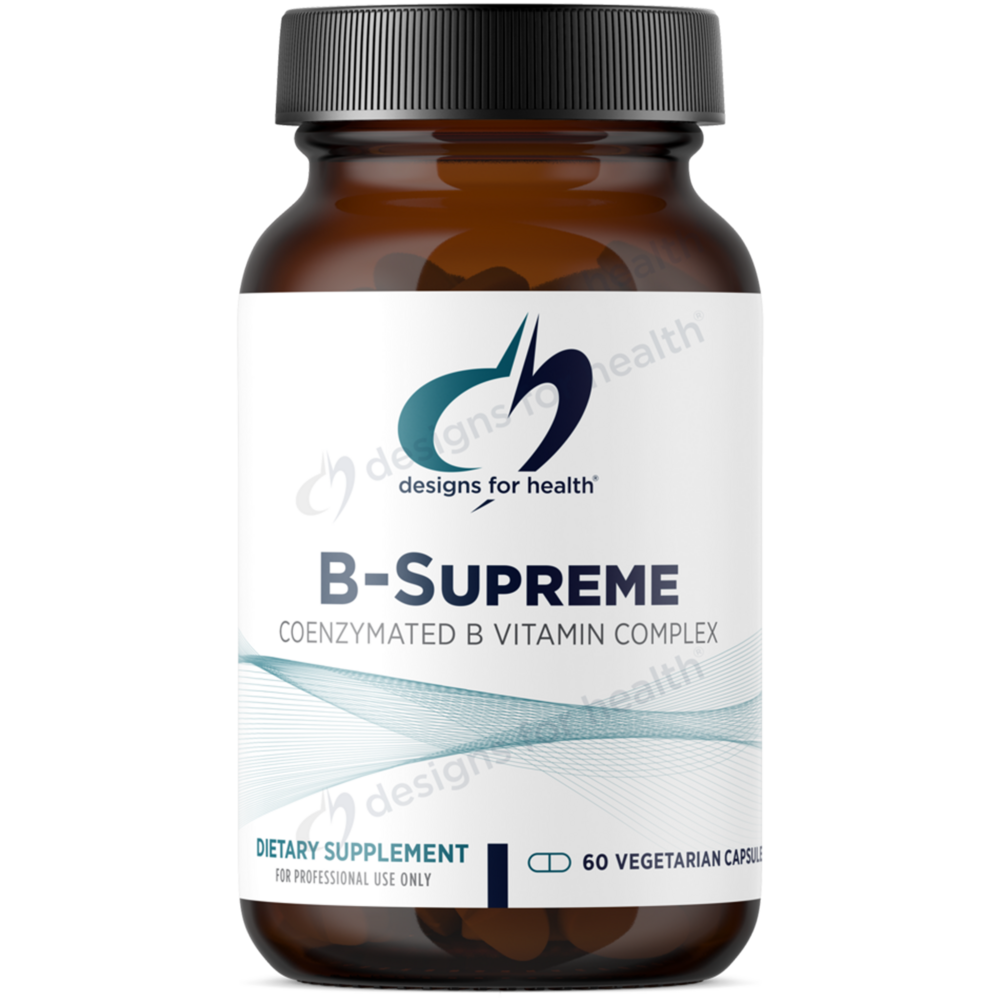 SKU: DFH-BSP060
This very powerful B vitamin combination formula supplies most of the B vitamins in their coenzymated forms, so the body does not have to phosphorylate them in order to be used in biochemical reactions. This formula also includes our proprietary NatureFolate™ blend of active isomer naturally-occurring folates. TMG and choline are included to support methylation.
Made with non-GMO ingredients.
As a dietary supplement, take one capsule per day with a meal, or as directed by your health care practitioner.
Serving Size: One Capsule
Amount Per Serving
Thiamin ... 100mg
(Vitamin B-1)(as Thiamin HCl)
Riboflavin ... 50mg
(Vitamin B-2)(as Riboflavin and Riboflavin-5-Phosphate)
Niacin ... 50mg
(Vitamin B-3)(as Niacinamide)
Vitamin B-6 ... 50mg
(as Pyridoxine HCl and Pyridoxal-5-Phosphate)
Folate ... 200mcg
(NatureFolate™ blend)
Vitamin B-12 ... 250mcg
(as Methylcobalamin)
Biotin ... 2000mcg
(as d-Biotin)
Pantothenic Acid ... 100mg
(as d-Calcium Pantothenate)
Trimethylglycine ... 200mg
(TMG)
Choline Dihydrogen Citrate ... 100mg
Other Ingredients: Cellulose (capsule), silicon dioxide, vegetable stearate.
NOTICE
Color, size or shape may appear different between lots.
Store at room temperature. Keep out of reach of children.