Blood Builder® Minis
MegaFood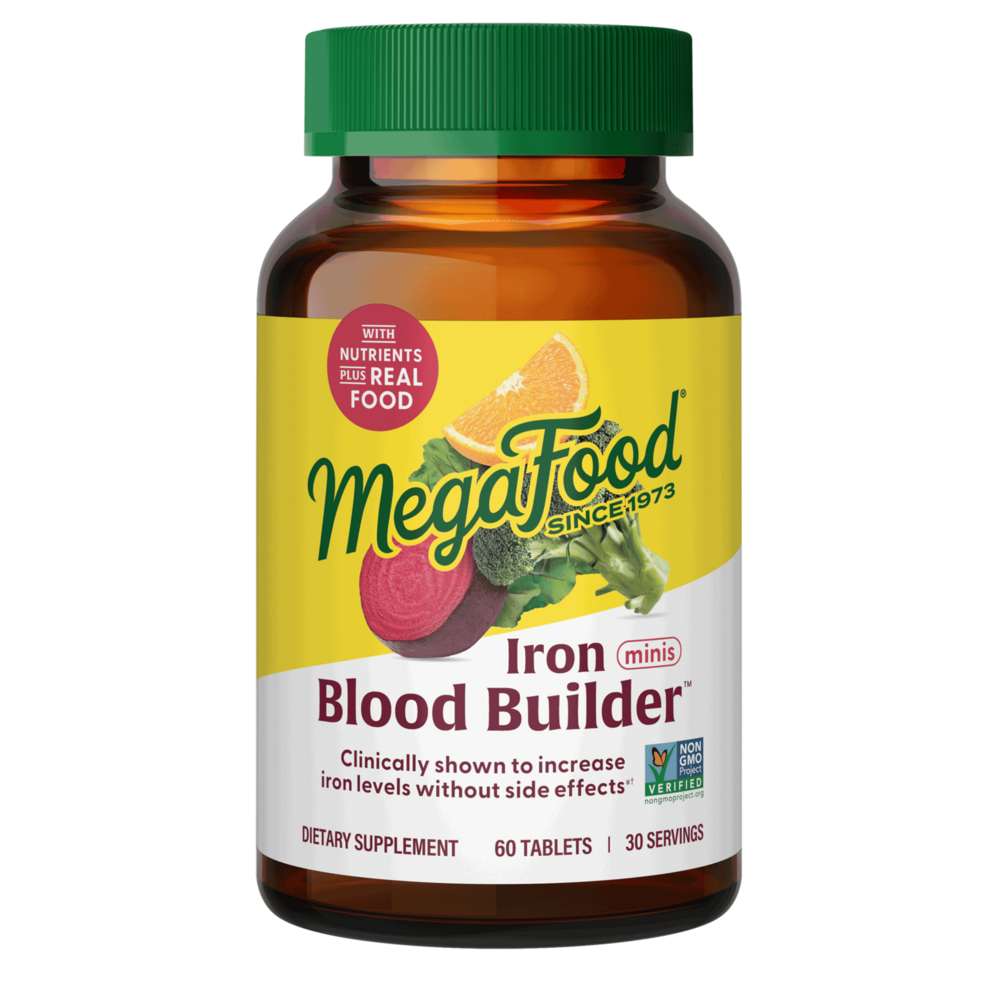 SKU: MEG-10337
MegaFood Blood Builder Minis takes everything you love about our original Blood Builder and delivers it to you in a convenient mini tablet. It's clinically shown to increase iron levels and reduce fatigue without common gastrointestinal side effects such as nausea or constipation (there, we said it!)†. We make it with nourishing whole foods, like beets and organic oranges, plus folic acid, and B12 for healthy red blood cell production, and vitamin C to support iron absorption. Oh, and did we tell you it's safe to take on an empty stomach? If building your blood without missing a beet (see what we did there?) sounds up your alley, this is the product for you.*
Delivers a gentle and effective 26 mg of FoodState® Iron*
Mini tablets are designed for those who have trouble swallowing supplements*
Includes folic acid, and B12 and which help maintain healthy red blood cell production*
Safe for menstruating women, teenage girls, pregnant women, vegans and vegetarians, athletes, and recent blood donors, all of whom are at increased risk of being low in iron*
Naturally combats fatigue and improves energy levels*
Crafted using our Slo-Food Process™ with FoodState® Beet Root and FoodState® Vitamin C with organic oranges
Gentle enough to take on an empty stomach
Also available in our original once-daily tablet
Note: Consumers should consult with their healthcare practitioners for advice regarding specific health conditions and recommended solutions
Suggested Use:
Adults take 2 tablets daily with a beverage. May be taken any time of day, even on an empty stomach.
Serving Size:
2 Tablets
Amount Per ServingVitamin C
... 15mg
(ascorbic acid)
Folate
... 680mcg DFE
(as folic acid) (408 mcg folic acid)
Vitamin B12
... 30mcg
(cyanocobalamin)
Iron
... 26mg
(as fermented iron bisglycinate)
Organic Beetroot
... 100mg
Food Blend
... 18mg
(Organic brown rice, organic orange, organic broccoli)
Other Ingredients:
Ferment media (rice protein, autolyzed yeast extract, organic brown rice, yeast [inactive], stearic acid, silicon dioxide, rice protein, autolyzed yeast extract, hypromellose.
Warning:
Accidental overdose of iron-containing products is a leading cause of fatal poisoning in children under six. Keep this product out of reach of children. In case of accidental overdose, call a doctor or poison control center immediately.
Not intended for children