Bone Density Formula
Rx Vitamins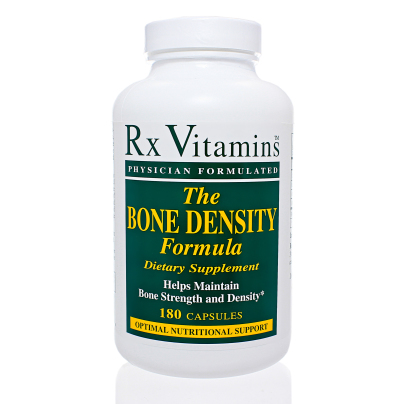 SKU: RXV-2400
The Bone Density Formula is a physician formulated dietary supplement which provides calcium, magnesium and boron– all as soluble citrate compounds. Vitamin D and vitamin C have been added to the formula to maximize the absorption and utilization of the calcium and magnesium and to enhance bone density.*
As a dietary supplement, take three to six capsules daily or as recommended by your physician or health care professional.
Serving Size: 6 Capsules

Amount Per Serving
Calcium ... 1500 mg
(as citrate)
Magnesium ... 500 mg
(as citrate)
Vitamin C ... 200 mg
(As ascorbic acid)
Vitamin D ... 200 IU
Boron ... 3 mg
(as citrate) ... 3 mg
-Corn Free
-Dairy Free
-Egg Free
-Gluten Free
-Hypoallergenic
-Soy Free
-Artificial Color Free
-Artificial Fragrance Free
-Salt Free
-Starch Free
-Sugar Free
-Wheat Free
-Yeast Free
-Preservative Free
Consult your healthcare professional.
These statements have not been evaluated by the Food and Drug Administration. This product is not intended to diagnose, treat, cure, or prevent any disease.