Brain Reset™
Pure Encapsulations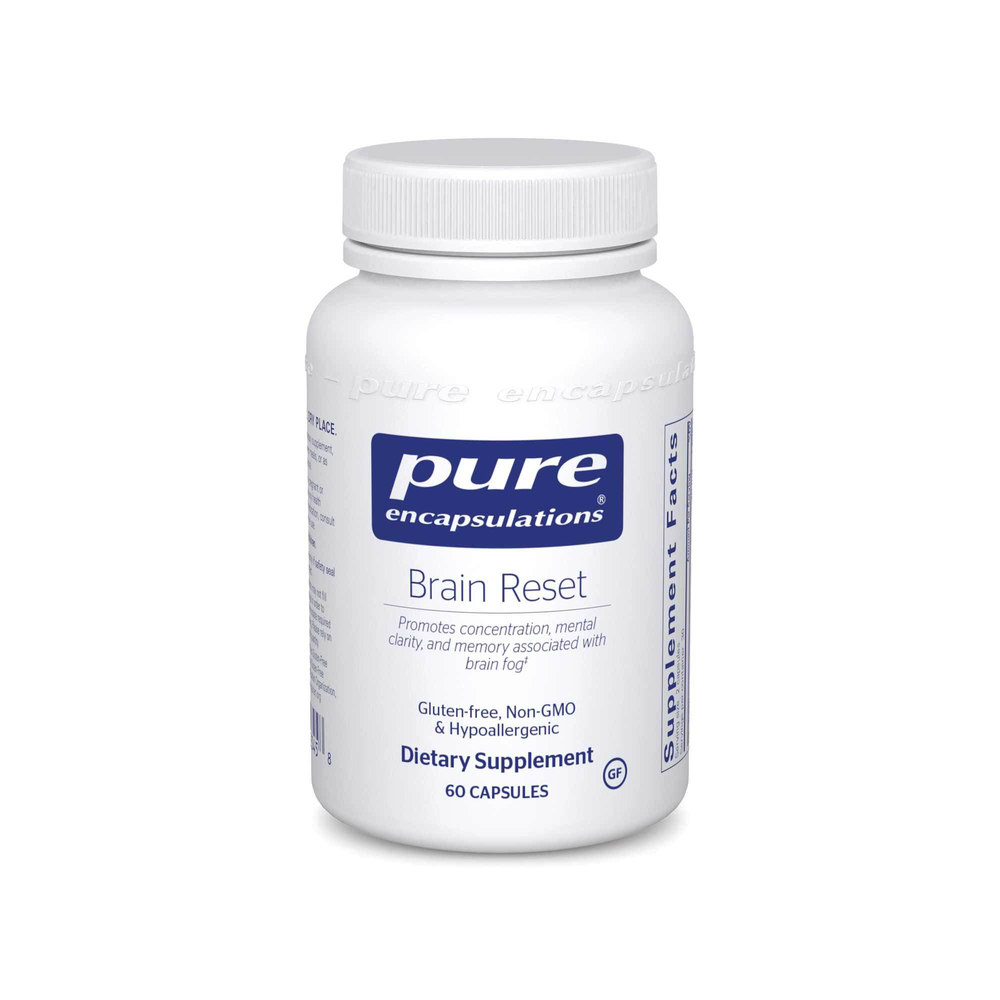 SKU: PUR-BRT6
Promotes concentration, mental clarity, and memory with a multi-faceted blend of nutrients and herbal extracts‡
Promotes neuroimmune health by supporting cellular function, neuroprotection, and immune mediator balance‡
Unique ginkgo-phosphatidylserine sunflower phytosome complex for enhanced absorption and bioavailability
400 mg lion's mane mushroom extract and 100 mg luteolin per serving
Made with high-quality vegan ingredients backed by verifiable science
Suggested Use:
As a dietary supplement, take 2 capsules daily, between meals, or as directed by a health professional.
Serving Size: 2 Capsules
Amount Per Serving
Riboflavin … 20 mg
Lion's Mane mushroom … 400 mg
(Hericium erinaceus) extract (fruiting body)
Bacopa (Bacopa monnieri) extract (aerial parts) … 320 mg
(standardized to contain 20% bacosides)
Virtiva® ginkgo-phosphatidylserine phytosome ... 120 mg
(Ginkgo biloba extract (leaf) and sunflower phospholipid complex)
(standardized to contain 5% ginkgoflavonglucosides and 12% phosphatidylserine)
Butcher's broom extract ...150 mg
(Ruscus aculeatus)(root)
Feverfew extract ... 150 mg
(Tanacetum parthenium)(leaf)
Luteolin ... 100 mg
Other ingredients: vegetarian capsule (cellulose, water)
Virtiva® is a registered trademark of Indena S.p.A., Italy.
Warning: Not to be taken by pregnant or lactating women. If you have any health condition or are taking any medication, consult your health professional before use. Keep out of the reach of children.