Cognitive Balance®
NuMedica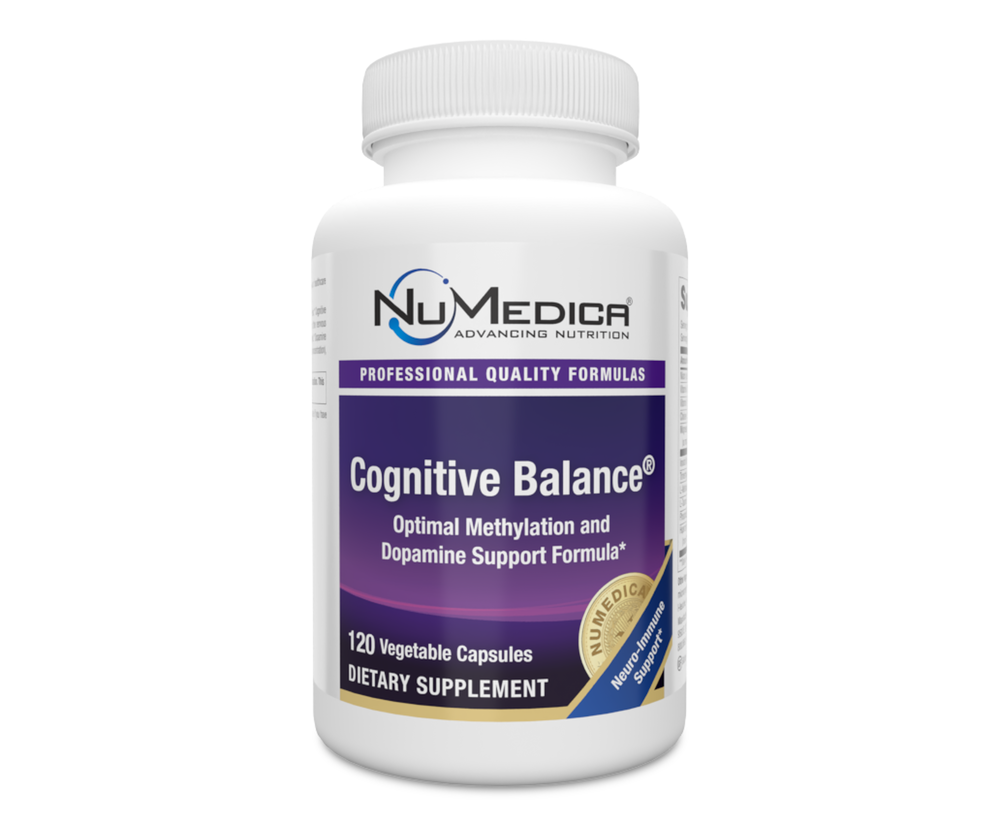 SKU: NMA-NM301
Cognitive Balance®
Cognitive Balance® provides support for optimal homocysteine and dopamine levels.* Cognitive Balance® features targeted ingredients shown to maximize vitamin transport to the nervous system and assist in the production and processing of the neurotransmitter dopamine.* Dopamine plays an important role in several brain functions, including cognition (learning and concentration), behavior, motor activity, sleep and mood.*
Supplement Facts
Serving Size: 4 Capsules
Amount Per Serving
500 mg
Niacin (as nicotinamide)
500 mg
Vitamin B6 (as pyridoxal-5'-phosphate)
10 mg
Vitamin B12 (as methylcobalamin)
250 mcg
Magnesium (as magnesium citrate)
100 mg
Inositol Hexanicotinate
Trimethylglycine
500 mg
L-Methionine
400 mg
L-Taurine
300 mg
Choline Citrate
100 mg
Phosphatidyl Serine (from sunflower, soy-free)
100 mg
Huperzine A
200 mcg


Other Ingredients
Hydroxypropyl methylcellulose (vegetable capsule), microcrystalline cellulose, rice flour, natural orange flavor, stevia leaf extract, ascorbyl palmitate, silica.
Does Not Contain:
Milk, eggs, fish, shellfish, tree nuts, peanuts, wheat, soy.
Suggested Use
Adults take four capsules once per day or as directed by your healthcare practitioner. Capsules may be opened and the powder mixed with food or beverage of choice.
Cautions and Warnings
Temporary flushing, itching or warming of the skin may occur. Do not use if you have gout, diabetes, liver dysfunction or are pregnant. Keep out of the reach of children.
*These statements have not been evaluated by the Food & Drug Administration. These products are not intended to diagnose, treat, cure or prevent any disease.