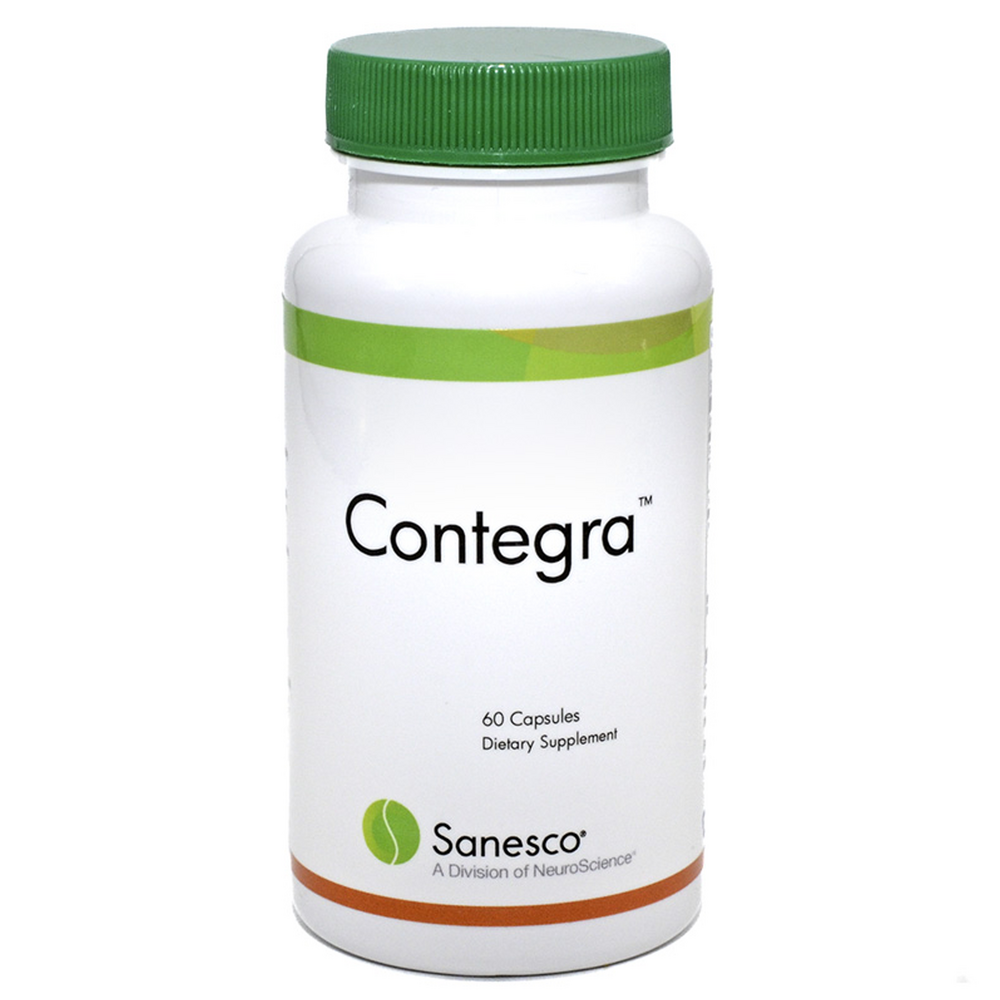 SKU: SAN-5006
Contegra™ is a broad-spectrum support formula for those who complain of anxiousness yet are fatigued due to poor sleep quality.
Ingredients support inhibitory and excitatory neurotransmitter production, adrenal and thyroid function, and methylation pathways.* It also supplies cofactor and/or phosphorylated forms of B vitamins critical for proper neurotransmitter function.* Ingredients in Contegra™ support balance within the hypothalamic-pituitary-adrenal-thyroid (HPA-T) axis.* Contegra also includes ingredients that support inhibitory activity as well as ingredients for excitatory activity to maintain inhibitory and excitatory balance.* Healthy methylation is supported by multiple biologically active ingredients.*
The NeuroSupport Blend™ (NSB) enhances absorption.* Improved absorption allows for smaller doses and fewer capsules.
Contegra is often suggested after inhibitory support (Prolent™, Lentra™, Tranquilent™) has begun and offers a gentle transition to excitatory support. The dose of ingredients supporting excitatory neurotransmitters is higher in Procite-D™ than in Contegra. Contegra may be used in the Initial, Restoration or Maintenance phases on the path to patient wellness.
1 capsule daily or as recommended by healthcare provider.
Serving Size:
1 capsule
Amount Per Serving:Vitamin B6
… 20mg
(as pyridoxal-5-phosphate)
Folate
… 680mcg DFE
(as (6S)-5-methyltetrahydrofolic acid, glucosamine salt) (Quatrefolic®)
Vitamin B12
… 300mcg
(as methylcobalamin)
Pantothenic Acid
… 50mg
(as pantethine)
Iodine
… 150mcg
(as potassium iodide)
Betaine
… 125mg
(Trimethylglycine)
NSB™ Proprietary Blend
... 102.5mg
[Protease, Amylase, Lipase, BioPerine® (Black Pepper Extract)(standardized to 95% piperine) (Piper nigrum) (fruit)]
L-theanine
… 75mg
(Suntheanine®)
N-Acetyl L-tyrosine
… 65mg
Siberian Ginseng Extract
… 50mg
(std. to 0.8% eleutherosides) (Eleutherococcus senticosus) (root)
Other Ingredients:
Microcrystalline cellulose, Dicalcium phosphate, Hypromellose (Vegetarian) Capsule
Does not contain
: wheat, soy protein, peanuts, tree nuts, yeast, dairy, corn, artificial colors, flavors, sugars, or preservatives.
Trademarks:
Suntheanine® is a registered trademark of Taiyo International, Inc.
BioPerine® is a registered trademark of Sabinsa Corporation, U.S. Patent #5,536,506
NSB™ is a trademark of Sanesco International Inc.
Quatrefolic® is a registered trademark of Gnosis Spa
If you are pregnant, nursing or taking any medications, consult your clinician before use. Discontinue use and consult your clinician if any adverse reactions occur.