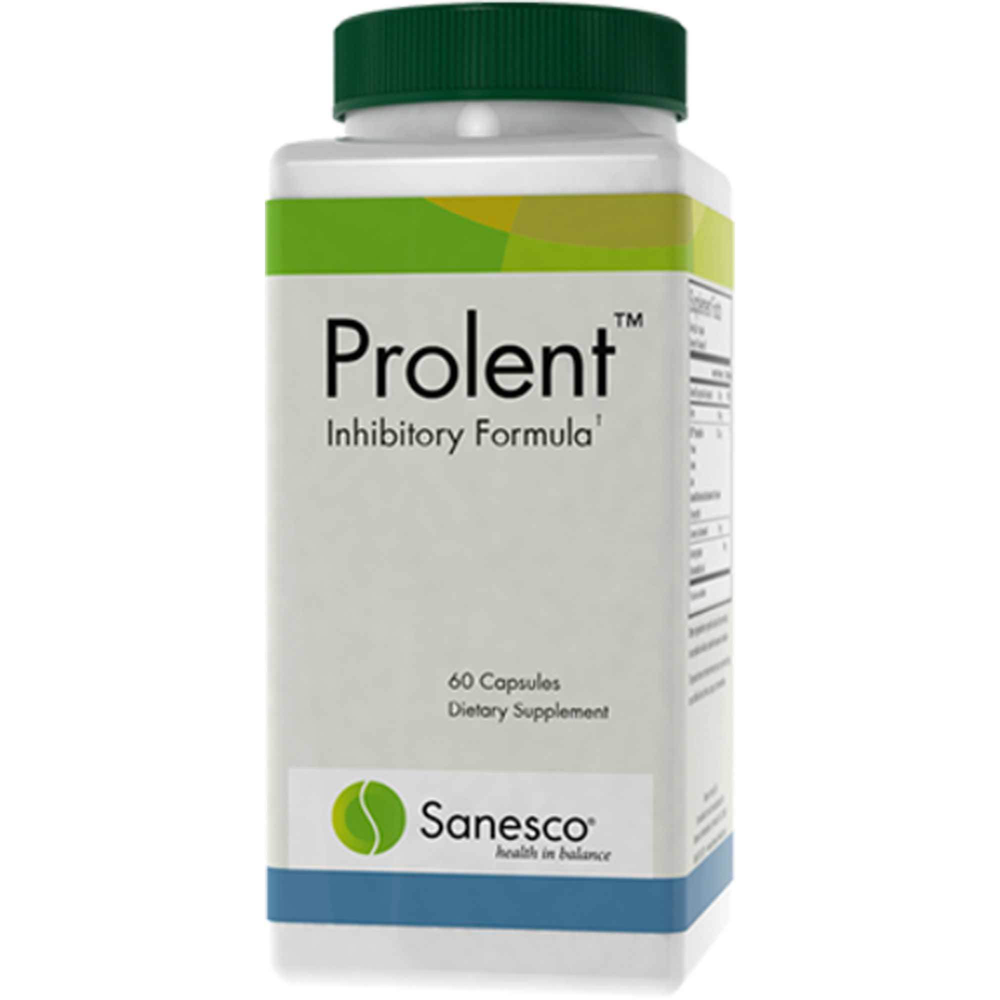 SKU: SAN-5001
Balance between inhibitory and excitatory neurotransmitters is vital to health and well-being. Inhibitory neurotransmitters such as serotonin, GABA and glycine control excitatory signals in the nervous system. That is why supporting inhibitory neurotransmitters often results in an overall calming and relaxing effect.
Prolent includes ingredients that support the action of inhibitory neurotransmitters.* 5-HTP and vitamin B6 support serotonin synthesis.* Theanine, as Suntheanine®, supports both the release of GABA and its function.* The combination of these ingredients along with glycine allows Prolent™ to offer comprehensive support for inhibitory neurotransmission.*
The NeuroSupport Blend™ (NSB) enhances absorption.* Improved absorption allows for smaller doses and fewer capsules.
Prolent helps prevent over-excitation when catecholamine support is being used.* Prolent may be used in Initial, Restoration and Maintenance phases along the path to patient wellness. It may be combined with Lentra™, SomniTR™, or Tranquilent™ for added inhibitory support.*
1 capsule daily or as recommended by healthcare provider.
Serving Size
: 1 capsule
Amount Per ServingVitamin B6
… 20mg
(as pyridoxal-5-phosphate)
Glycine
… 150mg
NSB™ Proprietary Blend
... 102.5mg
[Protease, Amylase, Lipase, BioPerine® (Black Pepper Extract)(standardized to 95% piperine) (Piper nigrum) (fruit)]

L-theanine
… 75mg
(as Suntheanine®)

5-hydroxytryptophan
… 50 mg
(Griffonia simplicifolia) (seed)

Other Ingredients:
vegetable capsule (hypromellose), rice flour
Does not contain:
wheat, soy protein, yeast, dairy, corn, peanuts, tree nuts, artificial colors, flavors, sugars, or preservatives.
Trademarks:
Suntheanine® is a registered trademark of Taiyo International, Inc.
BioPerine® is a registered trademark of Sabinsa Corporation, U.S. Patent #5,536,506
NSB™ is a trademark of Sanesco International Inc.
If you are pregnant, nursing or taking any medications, consult your clinician before use. Discontinue use and consult your clinician if any adverse reactions occur.