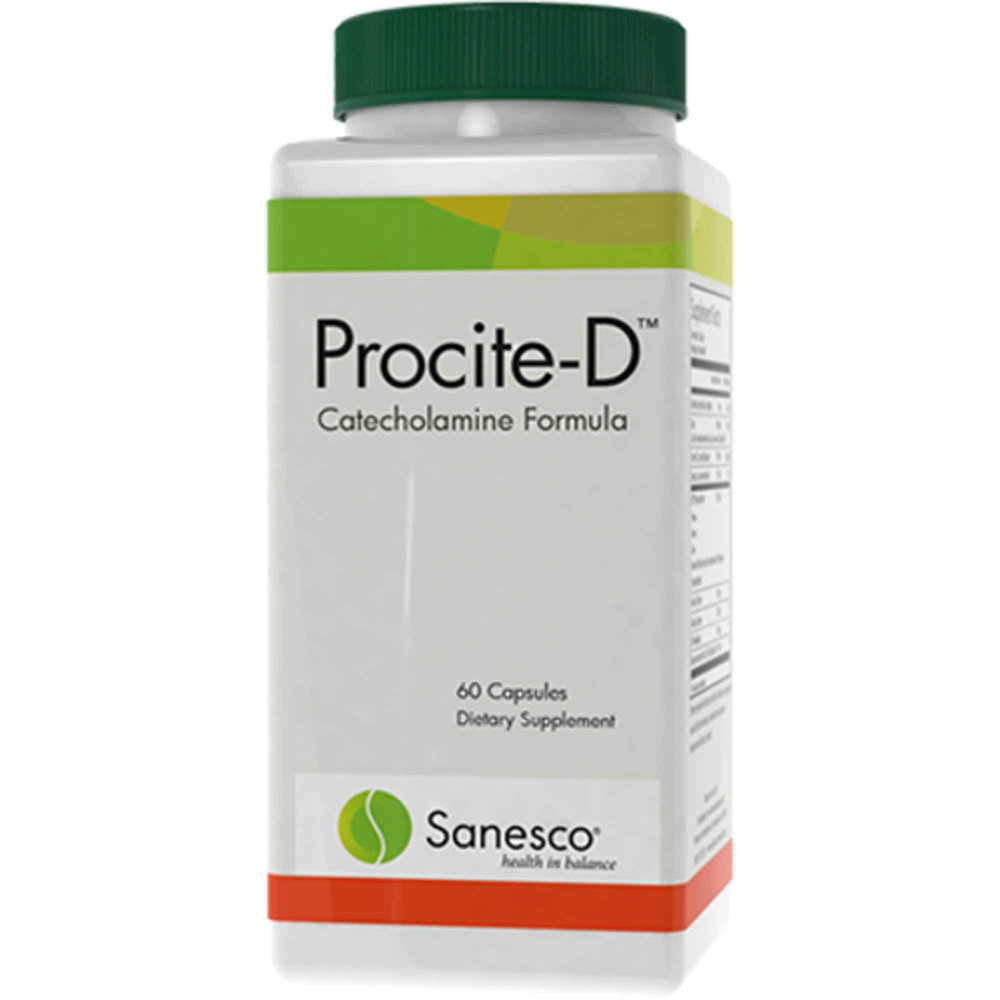 SKU: SAN-5002
Procite-D™ is a catecholamine support formula specifically targeting dopamine while also supporting PEA, norepinephrine, epinephrine and beta-endorphin pathways.* Cofactors and/or methylated B vitamins critical for synthesis are included along with the proprietary Neuro Support Blend™ (NSB) for enhanced absorption.* Use Procite-D™ in the rebalancing process to support dopamine/catecholamines.* Inhibitory supplementation should be used prior to beginning Procite-D. Increasing catecholamine levels can suppress serotonin.
The NeuroSupport Blend™ (NSB) enhances absorption.* Improved absorption allows for smaller doses and fewer capsules.
As a potent excitatory formula, Procite-D may be recommended during the Restoration Phase of the Communication System Management™ model in conjunction with Adaptacin™ for balancing the function of the catecholamine pathway and strengthening the hypothalamic-pituitary-adrenal (HPA) axis.
1 capsule daily or as recommended by healthcare provider.
Serving Size
: 1 capsule
Amount Per Serving:Vitamin B6
… 15mg
(as pyridoxal-5-phosphate)
Folate
… 680mcg DFE
(as (6S)-5-methyltetrahydrofolic acid, glucosamine salt) (Quatrefolic®)
Vitamin B12
… 300mcg
(as methylcobalamin)
Selenium
… 50mcg
(as L-selenomethionine)
NSB™ Proprietary Blend
... 102.5mg
[Protease, Amylase, Lipase, BioPerine® (Black Pepper Extract)(standardized to 95% piperine) (Piper nigrum) (fruit)]
N-Acetyl-L-Tyrosine
… 100mg
N-Acetyl-L-Cysteine
… 100mg
DL-Phenylalanine
… 100mg
Mucuna pruriens
… 120mg
(std. to 20% L-Dopa) (seed)
Other Ingredients:
vegetable capsule (hypromellose), rice flour
Does not contain:
wheat, yeast, soy protein, peanuts, tree nuts, dairy, corn, artificial colors, flavors, sugars, or preservatives.
Trademarks:
BioPerine® is a registered trademark of Sabinsa Corporation, U.S. Patent #5,536,506
NSB™ is a trademark of Sanesco International Inc.
Quatrefolic® is a registered trademark of Gnosis Spa
If you are pregnant, nursing or taking any medications, consult your clinician before use. Discontinue use and consult your clinician if any adverse reactions occur.