Glucose Regulation Guard Forte
Perque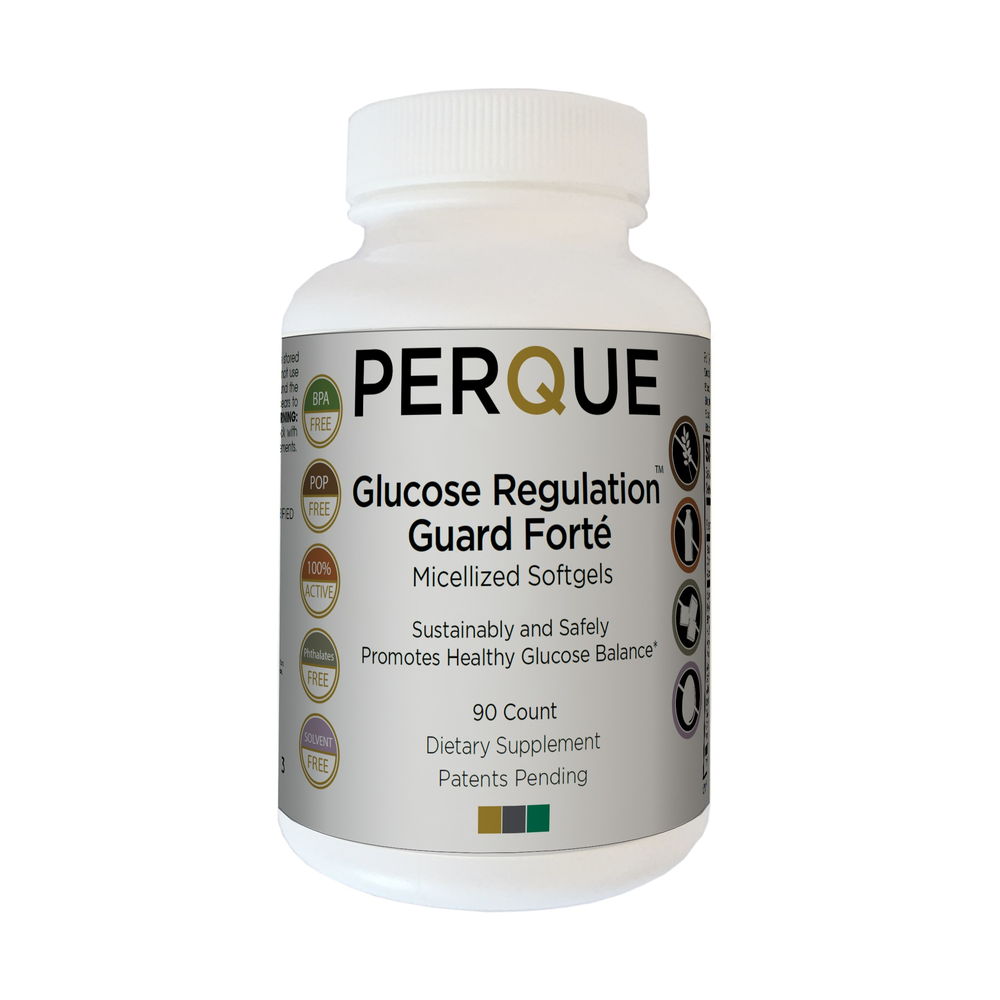 SKU: PER-184
Benefit: Sustainably and safely lowers weight, increases energy, and improves lean body mass.
Glucose dysregulation is epidemic and induces:
Coronary and atherosclerotic disease
Accelerated aging
Sexual dysfunction
Chronic fatigability
Obesity and weight control problems
Impaired immune defense and repair.*
PERQUE Glucose Regulation Guard is a natural and comprehensive solution to these problems. Enhanced glucose regulation means more energy, improved immune defense and repair, lower risk of glucose dysregulation, fewer side effects, increased patient satisfaction, and compliance resulting in better outcomes. This produces rapid benefits without reported adverse effects associated with oral hypoglycemic drugs, and, unlike insulin, it is effective when taken by mouth.*
Blood Glucose <120 or Hgb A1c<5.7: One (1) Softgel daily
Blood Glucose 121-150 or Hgb A1c 5.8-6.9: One (1) softgel AM & PM
Blood Glucose 151-180 or Hgb A1c 7.0-7.9: Two (2) softgels AM & One (1) PM
Blood Glucose >180 or Hgb A1c>8.0: Two (2) softgels AM & PM
Serving Size: Two Softgels
Amount Per Serving
Riboflavin ... 10mg
Chromium ... 250mcg
(as citrate)
Ascorboryl palmitate and Ascorbate ... 5mg
Corosolic ... 50mg
(standardized Banaba leaf)
French lilac ... 150mg
(Galega officinalis)
Bitter melon/Marah ... 150mg
(Momordica Charantia)
Huckleberry/Bilberry ... 100mg
(Vaccinium myrtillus)
Agnus castus ... 250mg
(Chaste tree berry)
Phosphatidylcholine ... 71mg
Rice bran oil ... 903mg
Gamma oryzanol ... 10, 300mcg
Yellow Beeswax ... 34mg
Kosher gelatin ... 457mg
Glycerine ... 206mg
(vegetable)
Chlorophyll ... 2mg
Vanadium ... 250mcg
(as ascorbate)
WARNING
Pregnant and nursing mothers need to check with their health professional before taking supplements.
KEEP OUT OF REACH OF CHILDREN
Must be stored with cap on tightly in a cool, dry place. Do not use product if the tamper-resist shrink band aroung the cap or inner seal beneath the cap appears to have been tampered with or is missing.