Prost8 Vitality Guard
Perque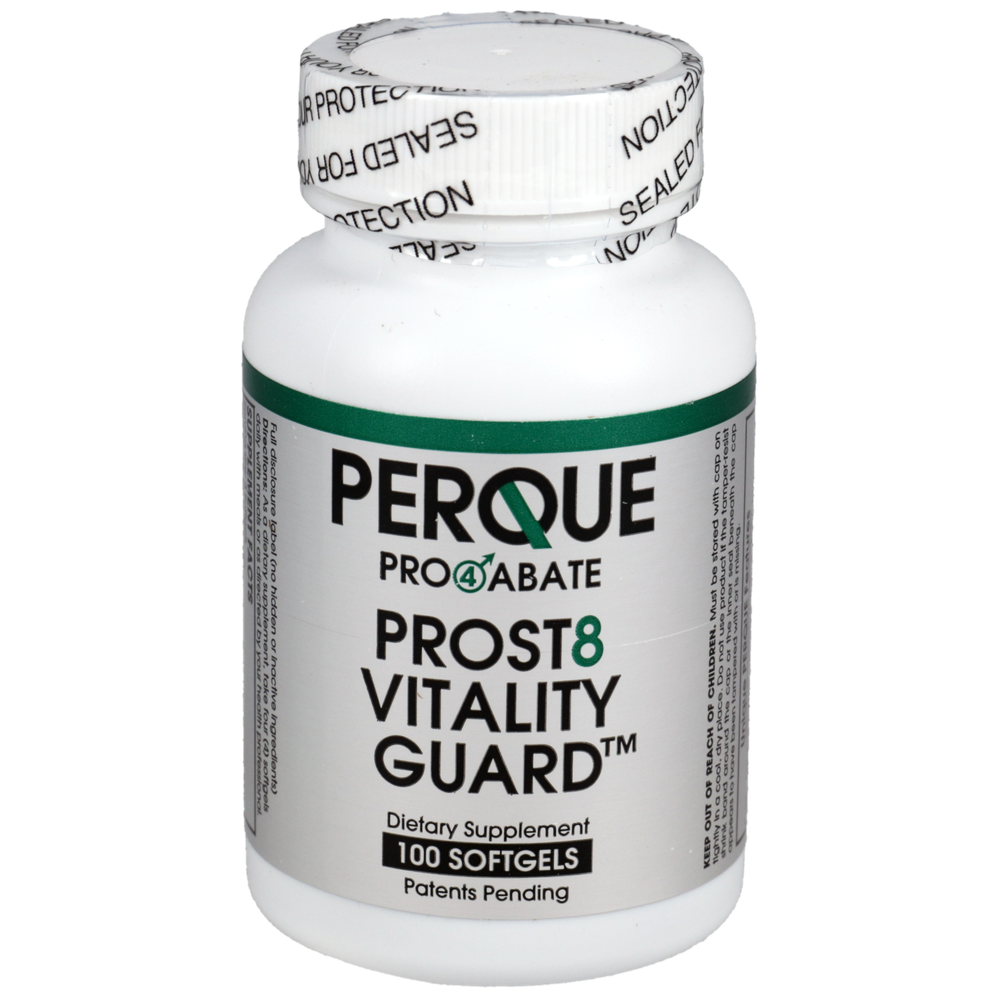 SKU: PER-295
Benefits: Healthier bladder function - sleep better with fewer trips to the bathroom in just a week rather than 3-6 months for other products.
PERQUE Prost8 Vitality Guard is an essential supplement for any man over age 40. This formula provides potent, natural support for prostate function.*
As a dietary supplement, take four (4) softgels daily with meals or as directed by your health professional.
Serving Size: Four Softgels
Amount Per Serving
Serenoa repens ... 320mg
(Saw palmetto - 85%-95% energized fatty acids)
Lycopene ... 12mg
(pure, free, bioactive)
Pygeum africanum ... 120mg
(extract)(pygeum - 13%-14% beta sitosterols)
Urtica dioca root ... 40mg
(stinging nettle)
Pumpkin seed oil ... 665mg
Palmitic ... 613mcg
Stearic ... 307mcg
Oleic ... 1, 481mcg
Linoleic ... 2, 963mcg
(essential fatty acid)
Linolenic ... 53mcg
(essential fatty acid)
Zinc ... 20mg
(picolinate)
Selenium ... 200mcg
(l-selenomethionine)
Glycerine ... 233mg
(vegetable)
Carob extract ... 72mg
Beeswax ... 72mg
Lecithin ... 29mg
Kosher gelatin ... 418mg
Water ... 369mg
(deionized, pure)
Beta-carotene ... 4mg
Ascorbyl palmitate ... 10mg
This product does not contain
citrus
MSG
wheat
gluten
corn
starch
yeast
zein
sulfate
phosphates (other than coenzymes)
preservatives
casein
other milk derivatives
GMOs
KEEP OUT OF REACH OF CHILDREN
Must be stored with cap on tightly in a cool, dry, place. Do not use product if the tamper-resist shrink band around the cap or the inner seal beneath the cap appears to have been tampered with or is missing.