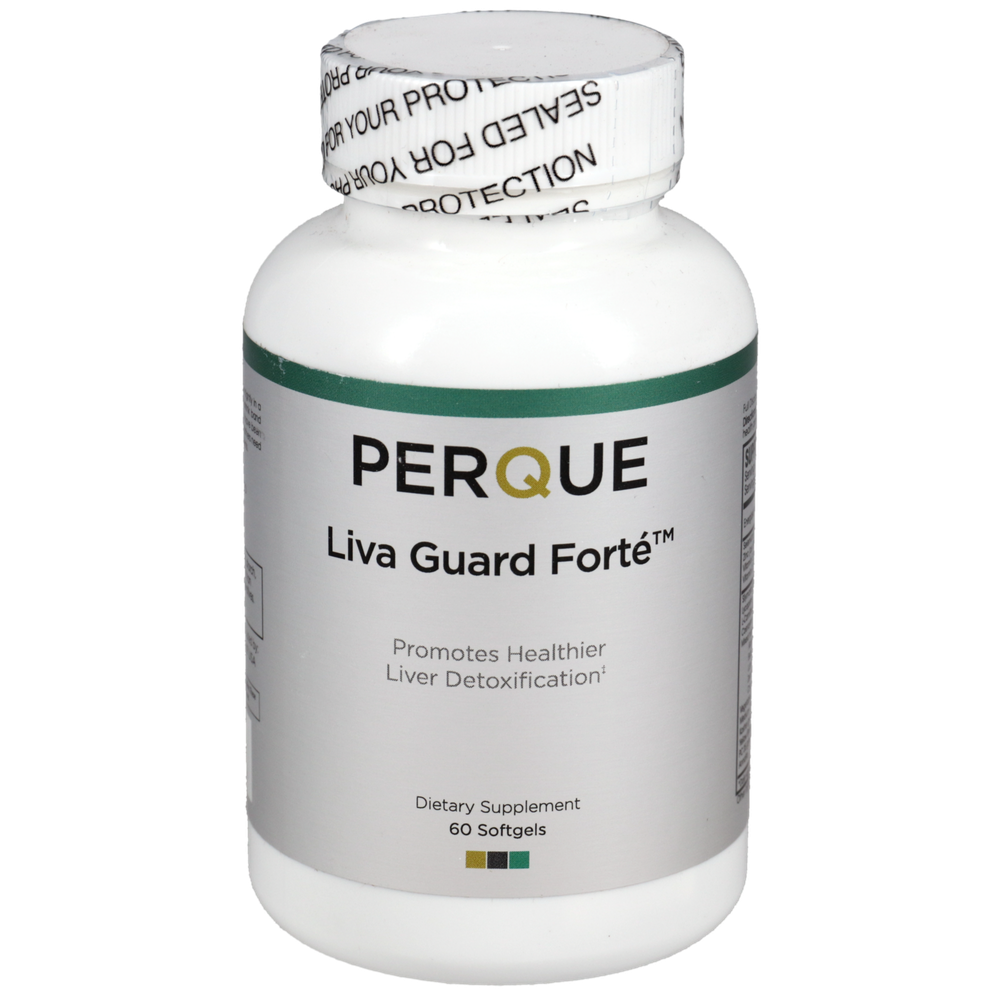 SKU: PER-210
PERQUE Liva Guard Forté is truly unique. It's formulated to protect the liver, one of the body's most vital organs, from an increasingly toxic world with a proprietary combination of liver protective and supportive natural products. Your liver detoxifies the body of chemicals, medications, supplemental hormones, "bad" fats, alcohol and caffeine. A properly functioning, healthy liver can prevent everything from fatigue and chronic allergies to pressure headaches, skin problems, and hangovers.
Supports
Liver protection against damage from toxins or infections
Detoxification of toxic chemicals, pesticides, and/or heavy metals found in polluted work, school, home or community environments
Detoxification of internal and external toxins that are 1, 000-10, 000 times higher than historical averages
Liver protection against alcohol and/or drug use
Liver defense against diets high in fat or sugars that turn into 'belly' fat and fatty livers
Improvement of fatigue otherwise unexplained
Take one (1) softgel a day or as directed by your health professional.
Serving Size: One Softgel
Amount Per Serving
Selenium ... 50mcg
(as I-selenomethionine)
Zinc ... 5mg
(as citrate)
Vitamin E ... 100IU
(as mixed natural tocopherols)
Vitamin D3 ... 5000IU
(Cholecalciferol)
Silymarin ... 100mg
(silybin beta milk thistle)
Lycopene ... 85mg
L-Carnitine Fumarate ... 50mg
Coenzyme Q10 ... 100mg
(micellized ubiquinone)
Mixed natural carotenoids ... 11.2mg
(dunaliella)
Alpha carotene ... 2, 250mcg
Beta carotene ... 10, 000IU
Lutein ... 250mcg
Zeaxanthin ... 450mcg
Cryptoxanthin ... 550mcg
Vegetable glycerin ... 165mg
Medium Chain Triglycerides ... 500mg
(raw palm oil)
Kosher gelatin ... 250mg
Yellow Beeswax ... 70mg
PC 35 ... 70mg
(phosphatidyl choline & other phosphatides)
Annatto ... 9mg
Other Ingredients: None
WARNING
Pregnant and nursing mothers need to check with their health professional before taking supplements.
KEEP OUT OF REACH OF CHILDREN
Must be stored with cap on tightly in a cool, dry place. Do not use product if the tamper-resist shrink band aroung the cap or inner seal beneath the cap appears to have been tampered with or is missing.