Immune System Health Pack - Vegetarian
Standard Process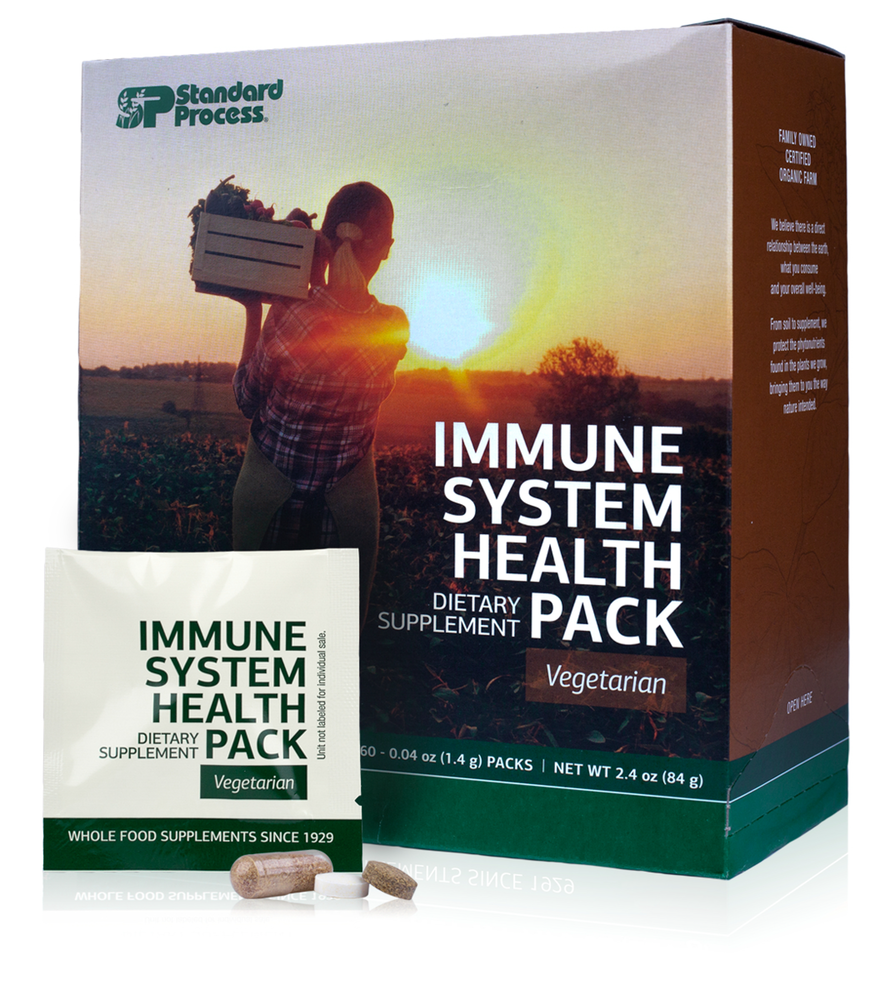 SKU: STP-13090
Vegetarian Immune System Health Packs are designed to provide support in two convenient daily vegetarian immune system supplement packs.*

Supports specific aspects of immune system activity and contains research-supported ingredients such as EpiCor® and maitake and turkey tail mushrooms*

At the suggested use of two packs per day, this product provides an excellent source of antioxidant vitamins A and C.

Excellent source of vitamin D and zinc.*
1 pack each morning and evening.

Serving Size: 1 Pack

Amount Per Serving
Total Carbohydrate ... <1g
Vitamin A ... 150 mcg RAE
Vitamin C ... 15mg
Vitamin D ... 20 mcg
Calcium ... 40mg
Zinc ... 5mg
Dried Yeast Fermentate ... 258mg
Proprietary Blend ... 305mg
Organic turkey tails, mushroom powder, echinacea angustifolia (root), organic echinacea purpurea (root), organic buckwheat (aerial parts) juice powder, organic buckwheat flour, maitake mushroom powder, and maitake mushroom extract.

Other Ingredients: Calcium lactate, cellulose, organic acerola (berry), milk powder, honey, organic rose hips, zinc amino acid (rice) chelate, maltodextrin, potassium citrate, water, arabic gum, glycerine, calcium stearate, modfied corn starch, sucrose, vitamin A palmitate, ascorbic acid, and cholecalciferol.
Not to be used druing pregnancy and lactation unless, otherwise directed by a qualified health care professional. Contraindicated in known allergy to plants of the daisy family. This product is processed in a facility that manufactures other products containing soy, milk, egg, wheat, peanut, tree nuts, fish, and shellfish.