Kyolic Aged Garlic Extract Formula 103 - Immune
Wakunaga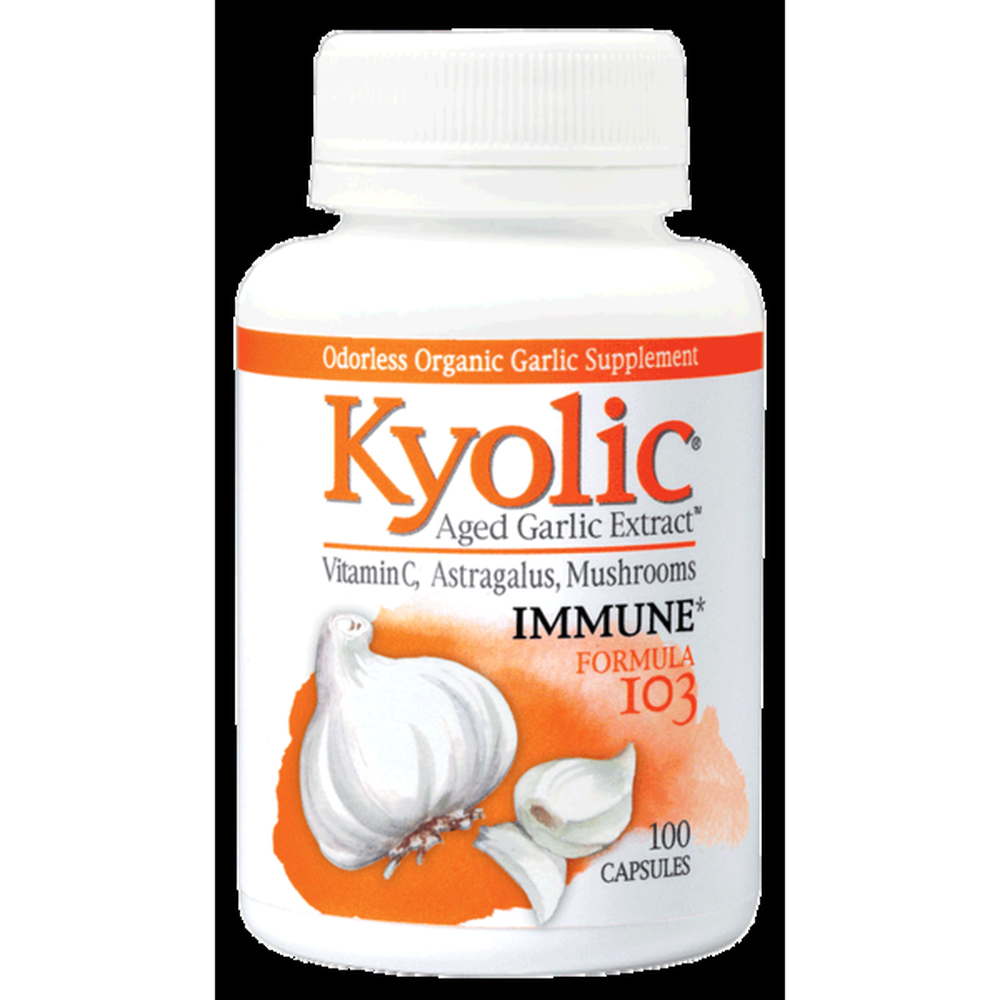 SKU: WAK-WA0008
Kyolic Formula 103 - Capsules
Aged Garlic Extract™ [220 mg]; Premium Mushroom Complex [75 mg]; Vitamin C [52.5 mg]; Astragalus Extract [50 mg]; Oregano Extract [50 mg]; Olive Leaf Extract [40 mg] (per capsule).

KYOLIC® Aged Garlic Extract™ begins with 100% organically† grown garlic bulbs. They are then aged to perfection in a unique extraction process to eliminate odor and create beneficial compounds found only in Kyolic.

This combination of vitamins, mushrooms and herbs helps to support healthy immune function.*

Take the best-KYOLIC® Aged Garlic Extract™, the most scientifically researched, highest quality and best-selling odorless Sociable Garlic®.

Supplement Facts
Serving Size: 2 capsules
Amount Per Serving
Vitamin C (calcium ascorbate)
105 mg
Aged Garlic Extract™†† Powder (bulb)
440 mg
Premium Mushroom Complex
Shiitake, Maitake, Poria Cocos, Reishi and Agaricus
150 mg
Astragalus extract (root)
100 mg
Oregano extract (leaf)
100 mg
Olive Leaf extract (Oleuropin 18%)
80 mg
Other Ingredients
Gelatin and Magnesium Stearate (vegetable source).

Does Not Contain
Sodium, Yeast, Dairy, Preservatives, Sugar, Gluten, Artificial Colors or Flavors.
Suggested Use
Take two capsules with a meal twice daily.
Storage
Store in a cool, dry place with cap tight. Keep out of reach of children.
*These statements have not been evaluated by the Food & Drug Administration. These products are not intended to diagnose, treat, cure or prevent any disease.