MediClear® Orange Vanilla Flavored
Thorne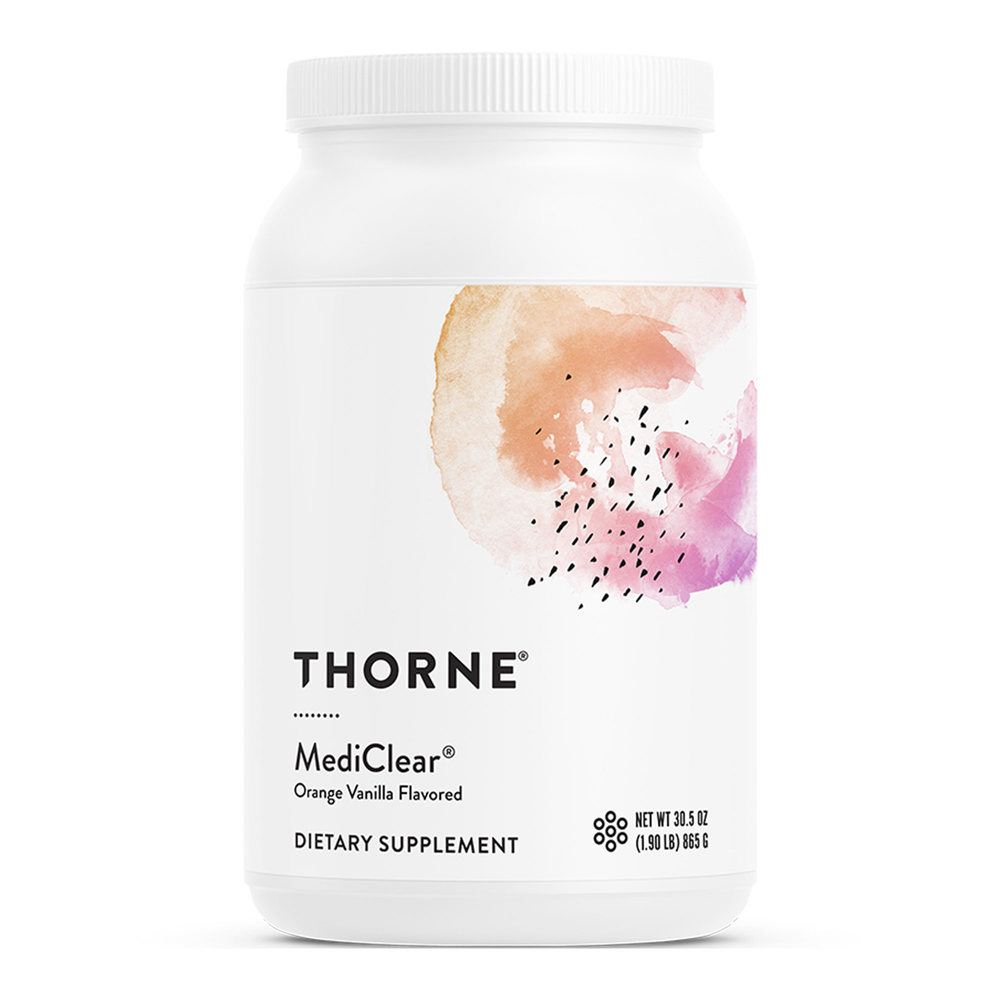 SKU: THO-SP640
Environmental pollution, hormone-laden meats, and an increase in the consumption of sugars and the wrong kind of fats have greatly increased the toxic burden on the body. Meanwhile, pesticide-laden and nutrient-depleted vegetables, grains, and fruits often fail to provide the nutrients necessary for detoxification. The liver carries the greatest share of the body's detoxification burden. But the liver needs essential nutrient cofactors to efficiently accomplish its primary task of detoxification.* MediClear combines essential nutrient cofactors and specific liver-supportive botanicals, such as green tea and milk thistle, with low-allergenicity protein and the minerals necessary to support the liver's detoxification processes.* MediClear contains more protein, fewer carbohydrates, more related detox cofactors, and more special nutrients than most detoxification protein powders.* MediClear is also more affordable than other detox formulas and comes in a powder form that mixes with water or juice for a pleasant-tasting supplement.*

Health-care practitioners know that many challenges to health can arise when a patient's liver is not functioning as it should, such as poor digestion, imbalances in intestinal bacteria, and fatigue. MediClear includes beneficial detoxification nutrient cofactors, as well as an array of extra nutrients and botanicals, including green tea and milk thistle, to support the body during an elimination diet.*

MediClear contains the vitamins and minerals the support the liver's detoxification actions.* These nutrients are provided in the most absorbable, best utilized forms, including pyridoxal 5'-phosphate (active vitamin B6), L-5-MTHF (active folate), methylcobalamin (active vitamin B12), and well-absorbed glycinate chelates from Albion Laboratories.*

In the liver's phase I detoxification process, harmful and unwanted fat-soluble substances are converted to intermediate metabolites by a group of enzymes called cytochrome p450 enzymes. The intermediate metabolites are often more reactive and potentially more toxic than the original substances. The liver's phase II detoxification process involves the attachment of other molecules onto these intermediate metabolites, which makes them non-toxic and water-soluble, thus allowing their elimination via the urine or intestines.

Rice and pea protein are used in MediClear because of their low incidence of allergenicity. It is far more likely for dairy or soy protein to initiate an allergic reaction. Using rice and pea proteins facilitates the elimination of most allergenic proteins from the diet, while maintaining high-quality protein intake.

Suggested Use:
For adults and children 12 or more years of age. Mix one serving (two scoops) with at least 8 ounces of cold water, juice, rice milk, or nut milk, or as recommended by your health professional.

Serving Size: 2 Scoops

Amount Per Serving
Betaine Anhydrous (Trimethylglycine) ... 50mg
Biotin ... 150mcg
Boron (Glycinate Complex) ... 100mcg
Calcium (Citrate) ... 300mg
Choline (Citrate) ... 11mg
Chromium (Nicotinate Glycinate) ... 100mcg
Folate (L-5-MTHF) ... 500mcg DFE
Glutathione (Reduced) ... 30mg
Glycine ... 1.65g
Green Tea Phytosome (decaffeinated) ... 50mg
Iron ... 2mg
L-Glutamine ... 500mg
L-Lysine (Monohydrochloride) ... 500mg
Lutein (Aztec Marigold) ... 60mcg
Magnesium (Citrate) ...150mg
Manganese (Bisglycinate Chelate) ... 1.5mg
Medium Chain Triglycerides ... 1.5g
Methyl Sulfonyl Methane ... 100mg
Milk Thistle Extract (Silybum marianum) ... 250mg
Molybdenum (Glycinate) ... 50mcg
Pea and Rice Protein Blend ... 26.26g
Potassium (Citrate) ... 100mg
Selenium (Selenomethionine) ... 70mcg
Sodium ... 200mg
Taurine ... 110mg
Vanadium (Citrate) ... 50mcg
Vitamin A (Beta Carotene) ... 900mcg
Vitamin A (Palmitate) ... 600mcg
Vitamin B1 (Thiamin HCI) ... 12mg
Vitamin B12 (Methylcobalamin) ... 50mcg
Vitamin B2 (Riboflavin 5'-Phosphate Sodium) ... 5mg
Vitamin B3 (Niacin) ... 8mg
Vitamin B3 (Niacinamide) ... 30mg
Vitamin B5 (Pantothenic Acid) ... 50mg
Vitamin B6 (Pyridoxal 5'-Phosphate) ... 10mg
Vitamin C (Ascorbic Acid) ... 300mg
Vitamin D ... 310mcg
Vitamin E (d-Alpha-Tocopherol) ... 80.6mg
Zinc (Bisglycinate Chelate) ... 10mg

Other Ingredients: Monk Fruit, Pure Cane Molasses, Silicon Dioxide, Vanilla and Orange Flavoring.
PROPOSITION 65 WARNING NOTICE FOR CALIFORNIA RESIDENTS
Consuming this product can expose you to chemicals including lead, which is known to the State of California to cause birth defects or other reproductive harm. For more information go to www.P65Warnings.ca.gov/food.


ALLERGY WARNING
This product is contraindicated in an individual with a history of hypersensitivity to any of its ingredients.

Individuals with a known, serious allergy to peanuts may occasionally react to other legumes, including peas. This product contains pea protein. If you have a known, serious peanut allergy, it is recommended to use this product with caution.

PREGNANCY
If pregnant, consult your health professional before using this product.

INTERACTIONS
5-methyltetrahydrofolate (5-MTHF) supplementation is not recommended concurrent with methotrexate cancer therapy, as it can interfere with methotrexate's anti-neoplastic activity; however, this folate source has not been shown to interfere with the anti-inflammatory activity of methotrexate. An individual taking methotrexate for psoriasis or rheumatoid arthritis can safely take a supplement containing folate.