Custom Vitamin/Mineral Powder
Metabolic Maintenance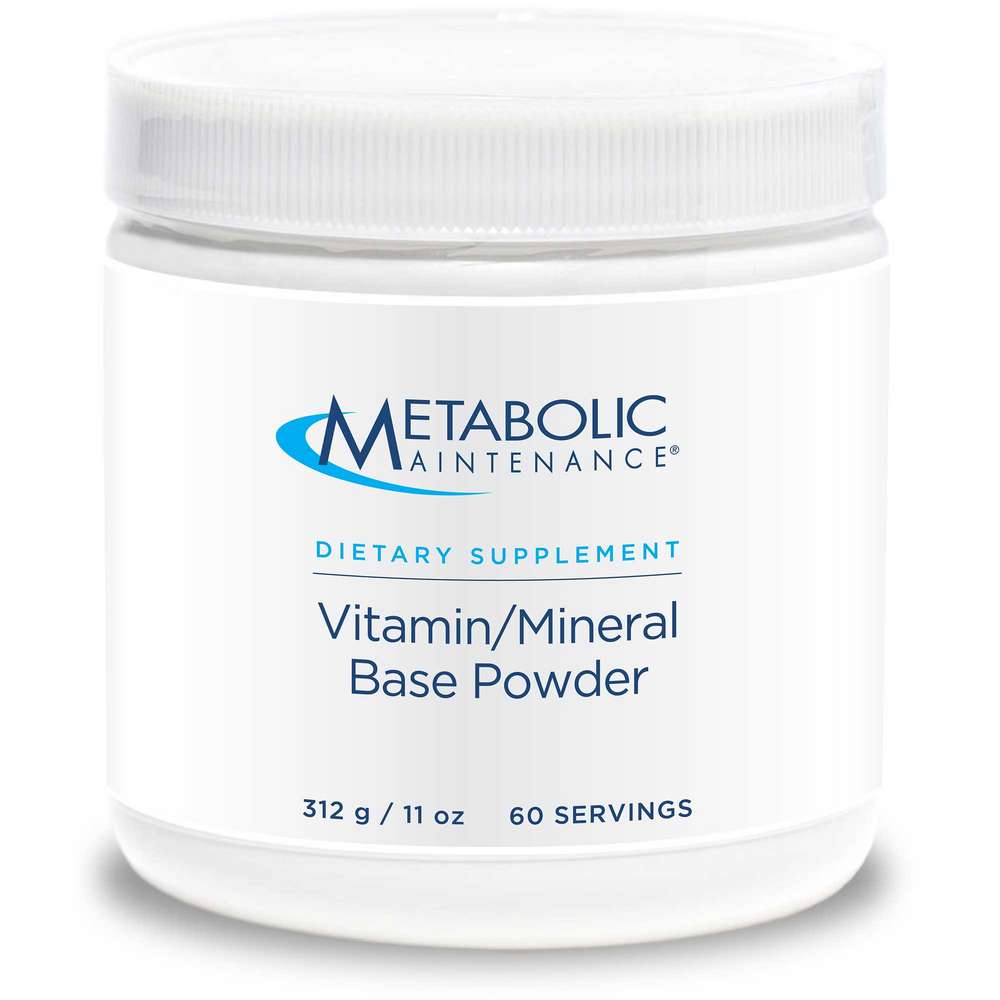 SKU: ME3-00508
Custom Vitamin/Mineral Powder
-This highly soluble Custom Vitamin/Mineral Base Powder contains all the
required vitamin and minerals in balanced amounts and in their most
bioavailable forms. Along with the active vitamin forms riboflavin 5 phosphate,
pyridoxal 5 phosphate, 5-methylfolate, and methylcobalamin, our powder contains
chelated mineral glycinates of magnesium, zinc, copper, manganese, and
molybdenum. Chromium niacinate (polynicotinate) and L-selenomethionine are
superior forms of these minerals, and calcium is provided as fully-reacted
citrate with a very fine particle size for less grittiness.
One (1) level scoop (1 teaspoon, 5.2g) daily as a dietary supplement. Stir
into juice or favorite beverage. Best when taken with larger meals or as
directed by a Doctor.
Serving Size: 1 Scoop (1 teaspoon, 5.2g)
Amount Per Serving
Vitamin A ...8000 IU
(as 70% Beta Carotene and 30% Palmitate)
Vitamin C ...250mg
(as Ascorbic Acid)
Vitamin D-3 ...400 IU
(as Cholecalciferol)
Vitamin E ...100 IU
(as natural d-alpha tocopheryl acetate and mixed tocopherols)
Vitamin K ...100mcg
Thiamine ...5mg
(as Thiamine Mononitrate)
Riboflavin ...5mg
Niacin ...25mg
(as Niacinamide)
Vitamin B-6 ...15mg
(as Pyridoxine HCI)
Folate ...400mcg
(as L-5-methyltetrahydrofolate)
Vitamin B-12 ...50mcg
(as Methylcobalamin)
Biotin ...100mcg
Pantothenic Acid ...25mg
(as d-Calcium Pantothenate)
Calcium ...500mg
(as Calcium Citrate)
Iodine ...75mcg
(as Potassium Iodide)
Magnesium ...250mg
(as Magnesium Glycinate)
Zinc ...15mg
(as Zinc Glycinate)
Selenium ...100mcg
(as L-Selenmethionine)
Copper ...1mg
(as Copper Glycinate)
Manganese ...5mg
(as Manganese Glycinate)
Chromium ...200mcg
(as Chromium Niacinate)
Molybdenum ...25mcg
(as Molybdenum Glycinate)
Boron ...1mg
(as Boron Citrate)
Other Ingredients: Natural Vitamin E is derived from soy oil.
No excepients, preservatives, binders, or fillers. Nothing but pure active ingredients.
*This statement has not been evaluated by the Food and Drug Administration.
This product is not intended to diagnose, treat, cure or prevent any diseases.