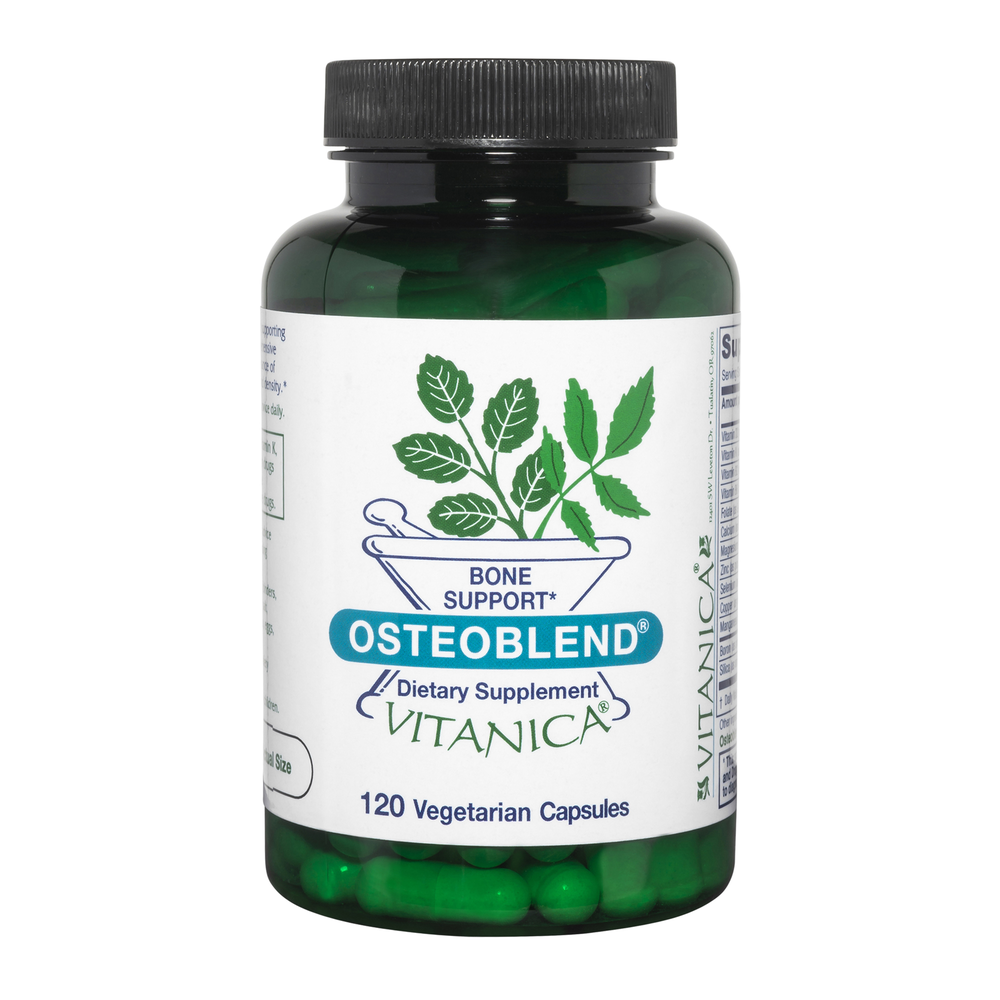 SKU: VTC-01065
Osteoblend 120c is available by Vitanica.

Bone Support

This holistic formulation is developed with three concepts in mind to assure long term bone health:

1) Improved calcium absorption (Vitamin D, calcium citrate-malate)
2) Trace minerals (boron, zinc, copper, silica, manganese)
3) Co-factors for enabling calcium crystal formation, providing structure and order to bone tissue (Vitamin K, folic acid). Exciting research in the maintenance of bone density and bone architecture provides a solid scientific basis for this progressive formula.
Suitable for Vegetarians
Two (2) capsules two times per day.
Serving Size: 2 Capsules Vitamin D2 ...400 IU
(as ergocalciferol)
Vitamin K ...100mcg
(as phytonadione)
Vitamin B2 ...10mg
(as riboflavin-5-phosphate)
Vitamin B6 ...10mg
(as pyridoxine HCL)
Folate (as folic acid) ...200mcg
Calcium ...300mg
(as citrate-malate, carbonate)
Magnesium (as citrate) ...150mg
Zinc (as picolinate) ...13mg
Selenium ...50mcg
(as L- Selenomethionine)
Copper (as gluconate) ...750mcg
Manganese (as citrate) ...8mg
Boron (as amino acid chelate) ...1.5mg
Silicon dioxide (silica dioxide) ...50mcg
Contains - Vegetable cellulose, l-leucine and water
Does Not Contain - Preservatives, binders, artificial colorings or flavorings, sucrose, glucose, starch, lactose, salt, corn, wheat, gluten, milk derivatives
Keep in a cool, dry place out of reach of children.
Contains Vitamin K, which interferes with the prescription drugs Coumadin and Warfarin. Do not take Osteoblend if taking either of these drugs.