Progestaid™
Apex Energetics, Inc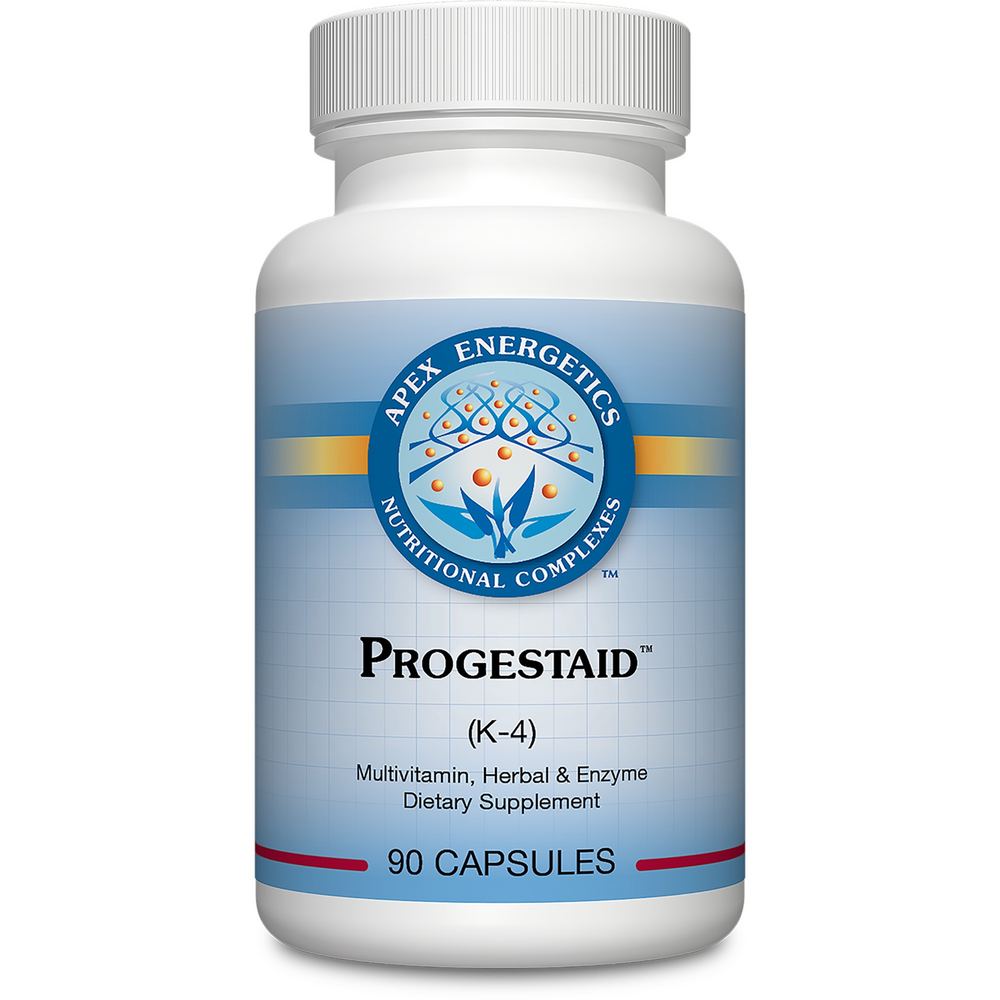 SKU: APE949-K04
Progestaid™ is formulated to support hormonal balance and normal menstruation in women of reproductive age.* It provides clinically meaningful levels of shepherd's purse and chaste tree berry—herbs with rich histories of female support in traditional European and Asian health practices. Progestaid™ combines these key herbs with highly absorbable B vitamins and fat-soluble vitamins, which are critical to female hormonal health, along with plant-based enzymes to support digestion and nutrient absorption.*
Take 1 capsule once a day, or as directed by your healthcare professional.


Serving Size: 1 vegetarian capsule

Amount Per Serving
Vitamin A ... 450mcg RAE
(as retinyl acetate, beta-carotene) (1500 IU)
Vitamin D ... 2.5mcg
(as cholecalciferol) (100 IU)
Vitamin E ... 50mg
(as mixed tocopherols) (75 IU)
Vitamin K ... 200mcg
(as phytonadione)
Thiamin ... 25mg
(as thiamin HCI)
Riboflavin ... 20mg
Niacin ... 20mg NE
(as niacinamide)
Vitamin B6 ... 15mg
(as pyridoxal 5'-phosphate)
Folate ... 200mcg DFE
(as L-5-methyltetrahydrofolate calcium)
Vitamin B12 ... 25mcg
(as methylcobalamin)
Pantothenic Acid ... 50mg
(as d-calcium pantothenate)
Shepherd's Purse ... 200mg
(Capsella bursa-pastoris) (whole plant)
Chaste Tree ... 200mg
(Vitex agnus-castus) (fruit)
Proprietary Blend ... 28mg
Peptidase
Betaine HCl

Other ingredients: Vegetarian capsule (hypromellose), dicalcium phosphate, cellulose.
Warning: Consult your healthcare professional before use if pregnant, nursing, taking medications, or for any use by minors. Do not use if the safety seal is broken or missing. KEEP OUT OF REACH OF CHILDREN. This product is not intended to diagnose, treat, cure, or prevent any disease. For nutritional use only.