ProstaSorb
Tesseract Medical Research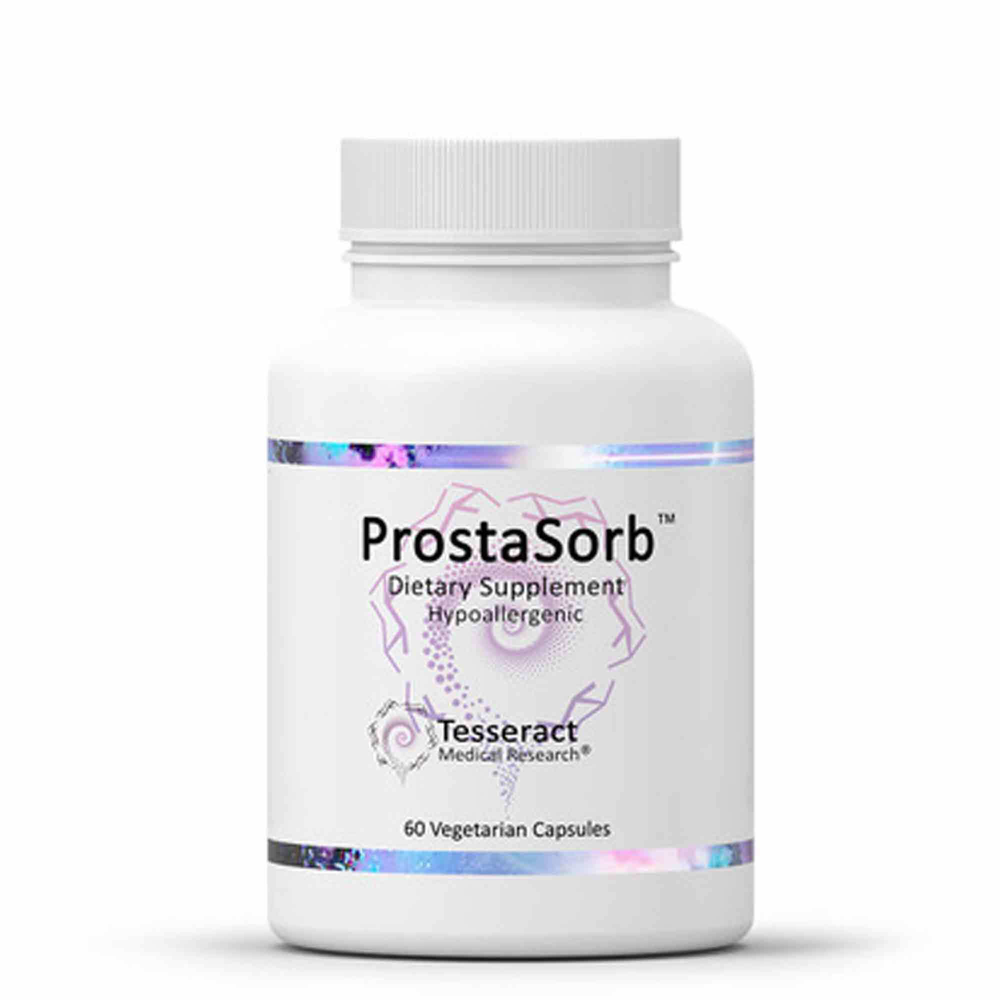 SKU: TES617-HA000
With healthy male aging in mind and to support optimal functioning of the prostate, Tesseract has leveraged its proprietary nutrient delivery technology to launch ProstaSorb.*
ProstaSorb is Tesseract's blend of three clinically tested botanical extracts that support prostate health: Serenoa repens (saw palmetto), Pygeum africanum, and Cucurbita pepo (summer pumpkin).* Clinical research has demonstrated the effectiveness of these three ingredients in providing nutritional support for moderating the urological symptoms associated with BPH.*
Tesseract's innovative nutrient transport system utilizes its proprietary CyLoc™ technology to allow nutrients to pass through the stomach without stomach acid degrading nutrient integrity. Tesseract's DexKey™ technology then releases each nutrient molecule at the desired point in the gastrointestinal tract – thus creating unprecedented absorption and bioavailability.
Optimal absorption means smaller amounts of each active ingredient is required to achieve superior results. This ability to micro-dose allows all three of ProstaSorb's botanical nutrients to achieve maximum efficacy in a single capsule.
Therapeutic Benefits of ProstaSorb
Mitigates progressive enlargement and hyperplasia of the prostate gland*
Decreases compression of the urethra and the bladder*
Promotes normal urinary flow and volume*
Decreases residual urine volume in the bladder*
Decreases frequency of urination, resulting in improved sleep patterns*
Suggested Use:
Take 1-2 capsules two times daily or as recommended by your health-care practitioner.
Serving Size: 1 Capsule
Amount Per Serving
ProstaSorb Complex … 300mg
(Saw Palmetto, Curcubita, Pygium)
Other Ingredients: CyLoc gamma dextrin fiber matrix, hypromellose (derived from cellulose) capsule, hydroxypropyl methylcellulose, calcium laurate, leucine, plant amylase and silicon dioxide.
Warning: If pregnant, consult your health-care practitioner before using this product.