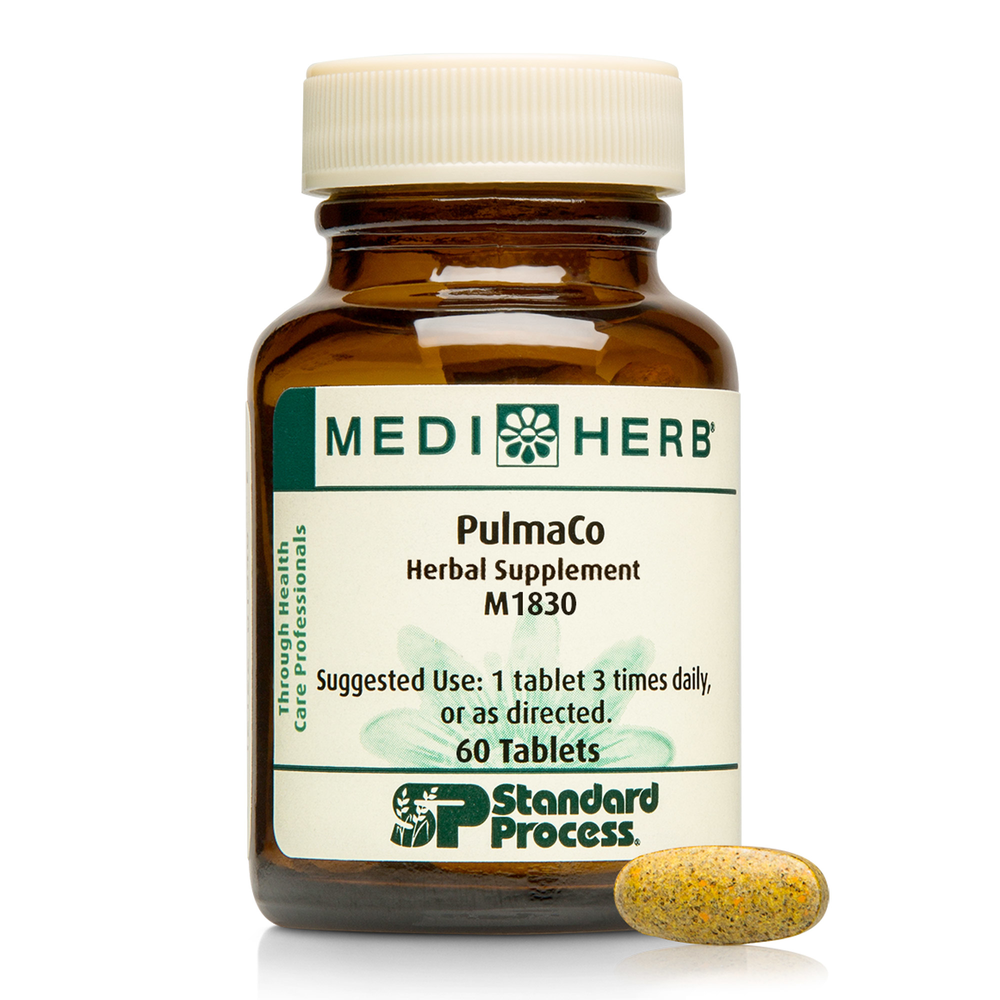 SKU: MDH-M1383
PulmaCo contains Chinese Skullcap, Malabar Nut Tree leaf, Grindelia, Turmeric, Ginkgo and Fennel to support healthy respiratory tract function. These herbs have been traditionally used in herbal preparations to:
Support the body's normal cough reflex
Support the body's natural ability to break up and expel respiratory secretions
Support healthy respiratory tract function
Provide antioxidant activity*
Suggested Use:
Take 1 tablet 3 times daily, or as directed.
Serving Size:
1 Tablet
Amount Per ServingChinese Skullcap root 3:1 extract
... 166.7mg
from Scutellaria baicalensis root 500 mg
Malabar Nut Tree leaf 5:1 extract
... 150mg
from Justicia adhatoda leaf 750 mg
Grindelia herb 4:1 extract
... 75mg
from Grindelia camporum herb 300 mg
Turmeric rhizome 25:1 extract
... 40mg
from Curcuma longa rhizome 1.0 gContaining curcuminoids 38 mg
Ginkgo leaf 50:1 extract
... 20mg
from Ginkgo biloba leaf 1.0 gContaining ginkgo flavonglycosides 4.8 mg
Fennel seed essential oil
... 5mg
(Foeniculum vulgare)
Other Ingredients:
Microcrystalline cellulose, dibasic calcium phosphate dihydrate, sodium starch glycolate, silicon dioxide, hypromellose and magnesium stearate.
Caution:
Contraindicated in pregnancy and lactation.