RAW Enzymes Women
Garden of Life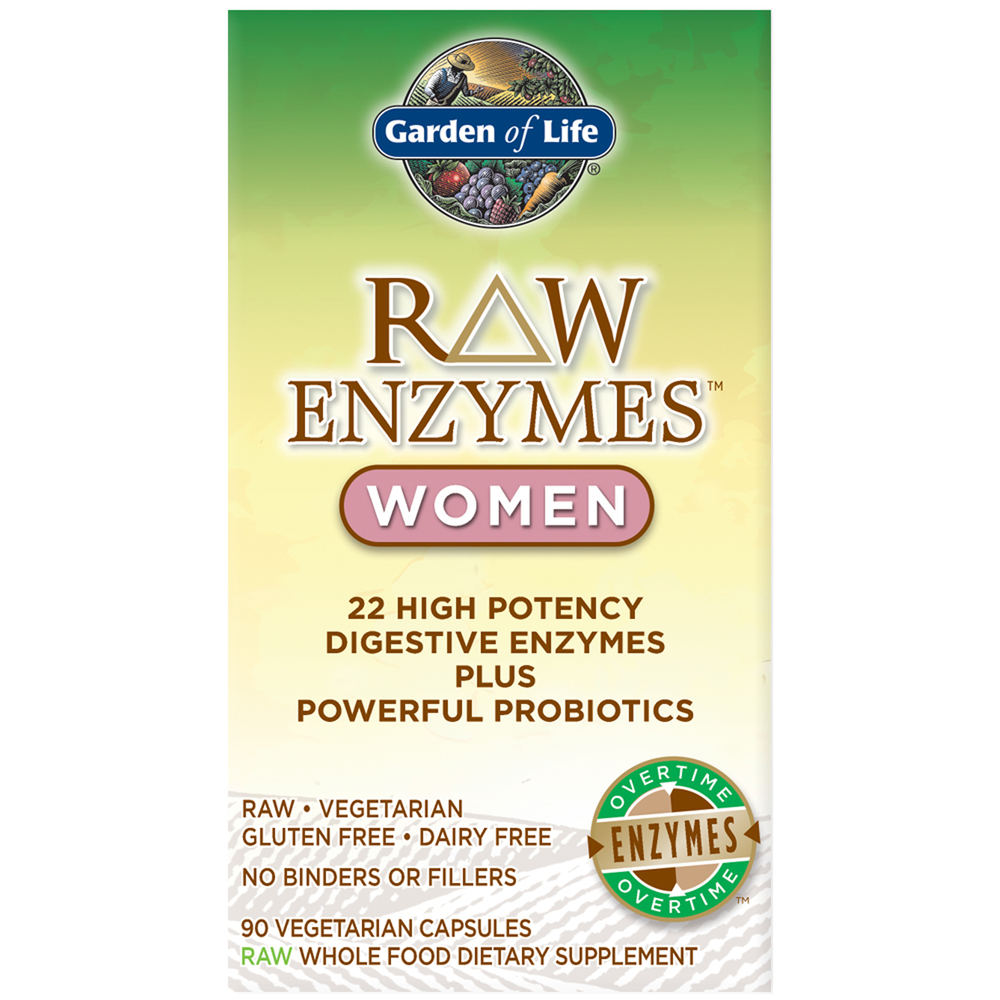 SKU: GRD-101761
RAW Enzymes Women is the most complete digestive enzyme formula available today—providing 22 powerful digestive enzymes, probiotic-created vitamins, minerals and antioxidant enzymes including glutathione, catalase and SOD along with powerful probiotics that act as enzyme factories—generating additional enzymes—working overtime for extraordinary digestive health.


Helps your body process difficult-to-digest foods such as dairy, grains, sugars, nuts, seeds, beans, broccoli and cabbage
Supports colon health and overall digestive function
Supports gut-related immune system health
Supports bone health and a healthy metabolism
pH optimized enzyme support for the entire digestive tract
Emerging science suggest that vitamin D supports breast health


RAW • VEGETARIAN • GLUTEN FREE • DAIRY FREE • NO BINDERS • NO FILLERS

Garden of Life introduces RAW Enzymes—the most powerful digestive enzyme formulas available. RAW Enzymes—whole food, plant-based enzyme formulas that deliver 22 powerful digestive enzymes with unsurpassed enzymatic activity to help your body digest the complete range of proteins, fats, carbohydrates and fiber. Enzymes can aid in the digestion of dairy, grains, sugars, nuts, seeds, beans, broccoli and cabbage as well as other difficult-to-digest foods. RAW Enzymes supports the digestion of fruit, vegetable and grain nutrients.
RAW Enzymes provides specific enzymes and supporting nutrients necessary to meet digestive and overall health needs.

Suggested Use:
Adults take 1 capsule 3 times per day with meals. You may gradually increase up to 9 capsules per day. Contents may be mixed in your favorite raw juice or water. Not intended for children.
Serving Size: 1 capsule

Amont Per Serving
Vitamin A ... 20mcg
(as beta-carotene)
Vitamin D ... 167IU
(as D3)
Thiamin ... 0.08mg
(Vitamin B1)
Riboflavin ... 0.03mg
(Vitamin B2)
Niacin ... 0.33mg
(as Niacinamide)
Vitamin B6 ... 0.07mg
Folate ... 17mcg DFE
Vitamin B12 ... 3mcg
Biotin ... 6mcg
Pantothenic Acid ... 0.17mg
Zinc ... 0.33mg
Vitamin K2 ... 2mcg
(as Menaquinone 7)
RAW Enzyme Blend ... 544mg
Protein-Digesting Enzymes
Bromelain (303, 000 PU)
Papain (303, 000 PU)
Peptidase (3, 500 HUT)
Protease (high pH) (2, 525 HUT) [Dairy Digesting]
Protease (low pH) (21 SAPU) [Dairy Digesting]
Protease (mid pH) (105, 000 HUT) [Dairy Digesting]
Protease (neutral pH) (3, 050 PC) [Dairy Digesting]
Carbohydrate-Digesting Enzymes
alpha-Galactosidase (541 GalU)
Amylase (27, 038 DU)
beta-Glucanase (38 BGU)
Cellulase (3, 400 CU)
Glucoamylase (54 AGU)
Hemicellulase (1, 040 HCU)
Inverlase (1, 064 SU)
Lactase (1, 575 ALU) [Dairy Digesting]
Maltase (216 DP)
Pectinase (54 PGU)
Phytase (9 FTU)
Xylanase (700 XU)
Fat-Digesting Enzymes
Lipase (3, 870 FIP)
Enzyme-Generating Probiotic Blend ... 31mg
Bacillus coagulans, Saccharomyces boulardii
Total Cultures 500, 000, 000 CFU**
Nattokinase ... 67FU**
Superoxide Dismutase ... 5 SOD Units**
Mineral Enzyme Activators ... 1mg
Red Algae (Algas calcareas), alfalfa in an ocean-based ionic mineral blend

Other ingredients: Vegetable cellulose (capsule), organic brown rice, L.bulgaricus.
Contains: Soy.
CAUTION: As with any dietary supplement, consult your healthcare practitioner before using this product, especially if you are being treated for ulcers, are pregnant, nursing, anticipate surgery, take medication (particularly blood thinners) on a regular basis or are otherwise under medical supervision.
Keep out of reach of children. Do not use if safely seal is broken or missing.
Store in a cool, dry place.
**At time of Blending