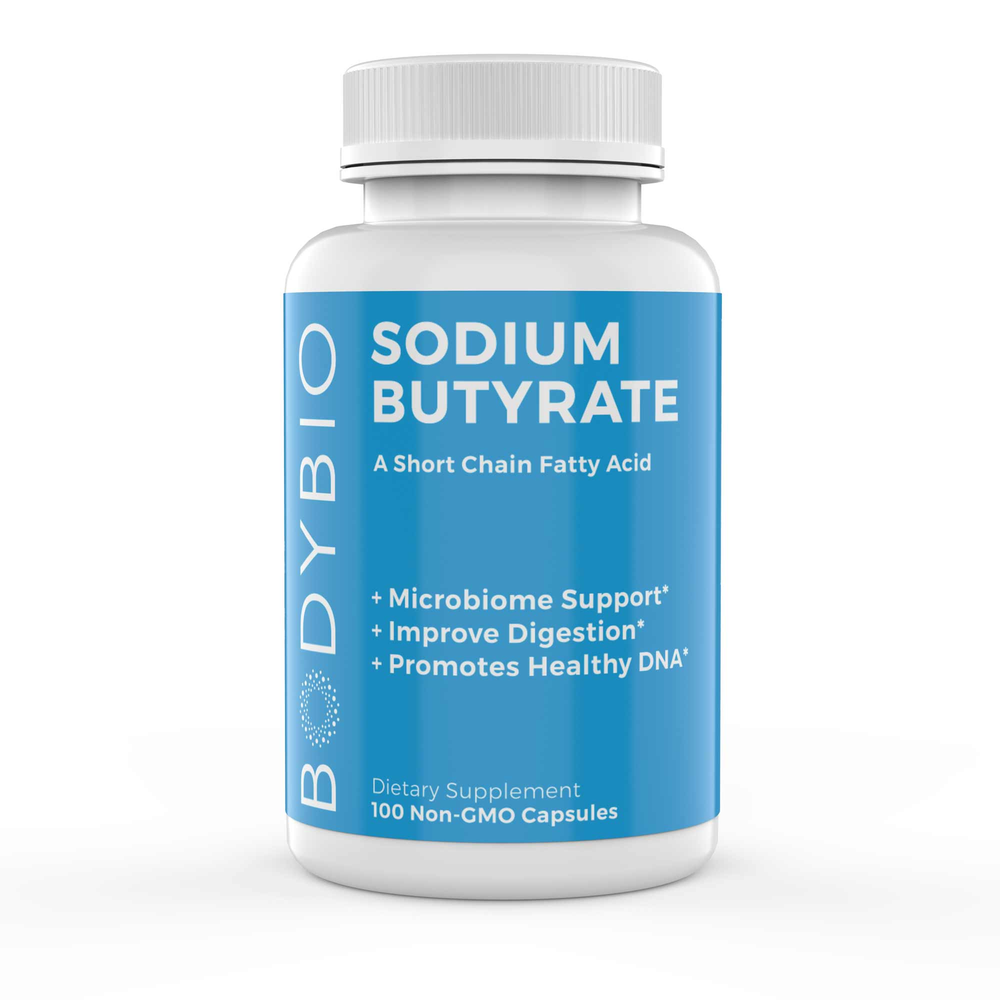 SKU: KAN-SP990
Butyrate: Gut Health Supplement's Role in the Body
BodyBio Butyrate is available in two unique formulations: Calcium/Magnesium Butyrate and Sodium Butyrate. Both options provide effective gut health supplementation, which supports digestive and brain health, while also protecting against disease.*
It's an effective gut health supplement with full-body benefits.
Not only is Butyrate critical in repairing the lining of the gut and the health of cells within it—it also supports a healthy inflammation response to protect the body from disease while improving immune function*.
Butyrate repairs the damage that pesticides, toxins, processed foods, drugs, etcetera have done to the lining of the gut. Butyrate helps to heal the gut lining and promotes healthy DNA to support genetic function against damage, which may lead to disease*.
Specially formulated to:
Support gut health*
Promote detoxification*
Maintain proper pH levels in the colon*
Reduce inflammation*
Promote healthy DNA function*
Support healthy blood sugar regulation*
Butyrate serves to close tight junctions and prevent the dysbiosis commonly known as leaky gut*
Why BodyBio Butyrate?
Quality matters! We don't use fillers or additives. There is no way to achieve the powerful benefits of butyrate without its distinctive, fermented scent. This means it's premium quality and ready to work. BodyBio's Butyrate is made with all natural ingredients and free of wheat, gluten, yeast, corn, soy, dairy, artificial colors, and resins.
Suggested Use:
Take 1-2 capsules with food, unless otherwise suggested by your Healthcare Professional.
Serving Size:
2 Capsules
Amount Per Serving
Calories
... 9.3
Total Fat
... 1.3 g
Sodium
... 313.3 mg
Butyric Acid
... 1.2 g
Other Ingredients:
Butyric acid, sodium hydroxide, medium chain triglycerides (MCT), hydroxypropyl methylcellulose, and purified water.
Gluten Free, Non-GMO, Allergen Free, Glyphosate Free, Vegan.
Keep in a cool dry place
Keep out of the reach of children