The ONE® Mitochondrial Optimizer
Quicksilver Scientific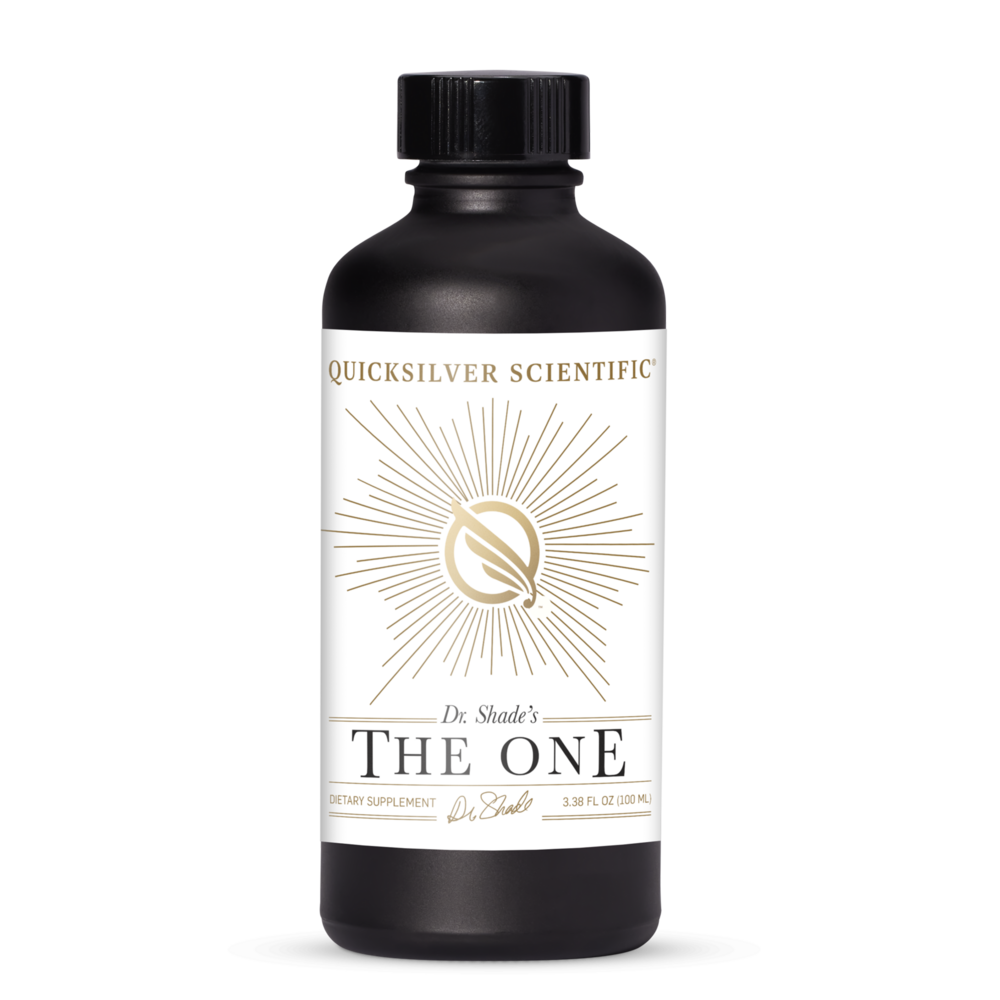 SKU: QSL-Q1025
The ONE® offers a unique blend of state-of-the-art nutraceuticals demonstrated to extend longevity and activate cellular energy. These synergistic super-nutrients are blended into a potent mix of 19 adaptogenic herbs (Quicksilver's NanoMojo) that serve as a broadly energizing plant base for the formula. The ONE is one supplement you won't want to be without.
Super nutrients offer state-of-the-art antioxidant power*
Supports mitochondrial and cellular function*
Helps bolster mitochondria growth*
Unique herbal blend supports a healthy stress response*
Take 1 teaspoon per day. Hold in mouth for 30 seconds or more before swallowing. May be mixed into water. Best taken on an empty stomach at least 10 minutes before meals. Use within 60 days of opening.
Serving Size:
5.0ml (1tsp)
Amount Per ServingBioPQQ®
... 7mg
(Pyrroloquinoline Quinone Disodium Salt)
CoQ10
... 30mg
(as Ubiquinone)
Resveratrol
... 15mg
(from Japanese Knotweed root extract)
DeltaGOLD Tocotrienols
... 5mg
Essential Phospholipids
... 405mg
(from purified sunflower seed and soybean lecithin)
Sun Horse Proprietary
... 400mg
Adaptogenic Liquid Herbal Blend
Acai Berry, Gynostemma rhizome (Jiaogulan), Goji berry, Maca root, American Ginseng root, Schisandra fruit, Chinese Licorice root, Rhodiola root, Astragalus root, Reishi fruiting body, Catuaba Bark, Guarana seed, Ashwagandha root, Maple sap Syrup
Other Ingredients:
Water, Glycerin, Ethanol, Vitamin E (as Tocofersolan and Natural Mixed Tocopherols), Medium Chain Triglycerides, and Natural Citrus Oils.
BioPQQ is a registered trademark of MGC (Japan).
Refrigerate upon receipt.