Thymuril Tablets
Integrative Therapeutics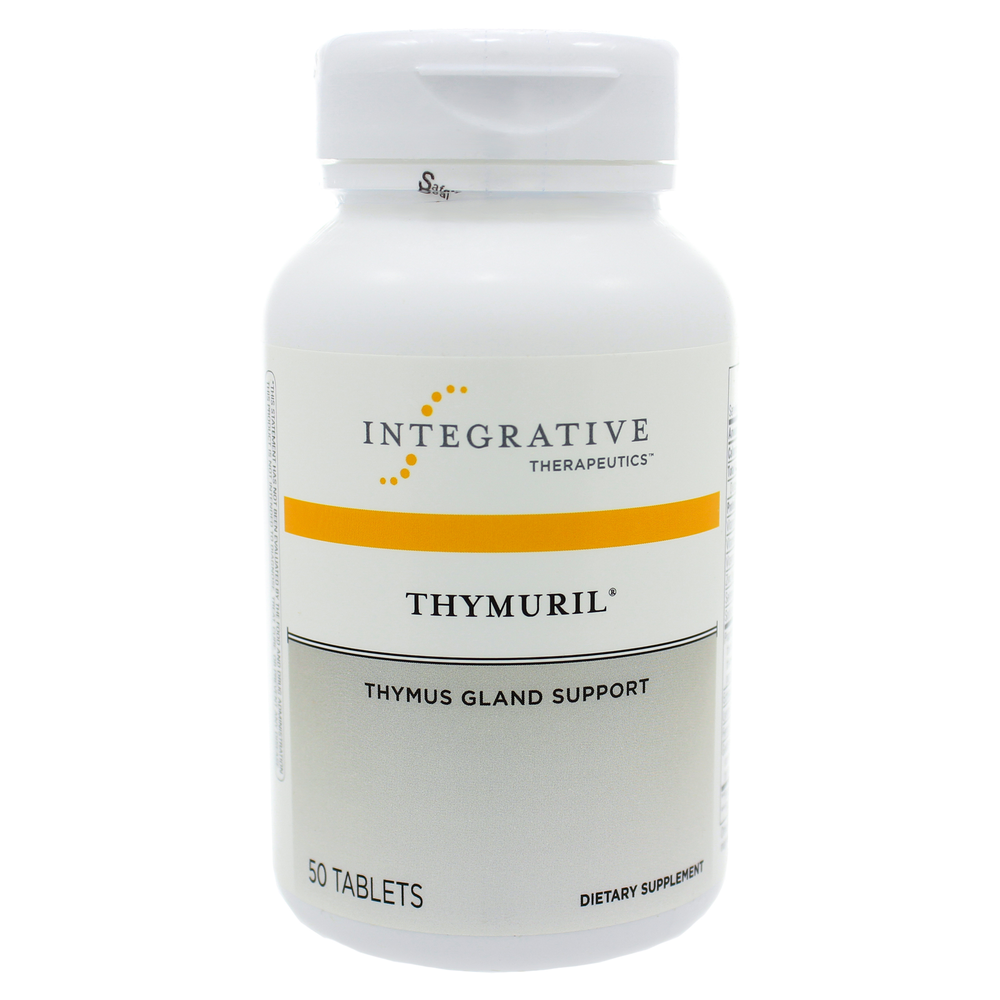 SKU: ITI-73985
Thymuril® thymus gland support contains an exclusive preparation of Thymus Polypeptide Fractions along with essential vitamins, minerals, lysine, and herbs to provide comprehensive support for the immune system, including white blood cell functions and thymus gland activity.*
Take 2 tablets daily, or as recommended by your healthcare professional.
Serving Size: 2 Tablets
Amount Per Serving
Calories ... 10
Total Carbohydrate ... 1g
Dietary Fiber ... <1g
Protein ... 2g
Vitamin A ... 25, 000IU
(as beta carotene)
Vitamin C ... 250mg
(ascorbic acid)
Vitamin E ... 200IU
(as d-alpha tocopheryl acid succinate)
Zinc ... 15mg
(as zinc Krebs cycle complex)††
Selenium ... 25mcg
(as L-selenomethionine)
Sodium ... 5mg
Proprietary Thymus Polypeptide Fractions/Glandular Complex ... 901mg
thymus polypeptide fractions, spleen (freeze-dried), thymus, lymphatic, trypsin, papain and bromelain (2, 400 G.D.U./g)
Organic Echinacea Purpurea Root ... 300mg
Lysine ... 250mg
(as L-lysine HCl)
Fennel seed ... 65mg
(Foeniculum vulgare)
Goldenseal Root and Rhizome Extract ... 64mg
(Hydrastis canadensis)
standardized to contain 5% total alkaloids including berberine, hydrastine, and canadine
Other Ingredients: cellulose, sodium carboxymethyl cellulose, hydroxypropyl methylcellulose, magnesium stearate, silicon dioxide, glycerin, carnauba wax
Contains milk.
Thymuril® Does Not Contain
artificial coloring
artificial flavoring
gluten
preservatives
soy
sugar
wheat
yeast
††Complexed as citrate, fumarate, malate, succinate, and alpha ketoglutarate.
Caution: Do not use this product if pregnant or nursing. Not recommended for individuals with autoimmune conditions. Persons with allergies to plants of the Asteraceae (Compositae) family including ragweed should use this product with caution. If you have diabetes or are taking any prescription drugs, consult your healthcare professional prior to use.
All organs and glands derived from bovine and porcine sources.