Vital Whey®, Cocoa Grass-Fed Whey Protein
Well Wisdom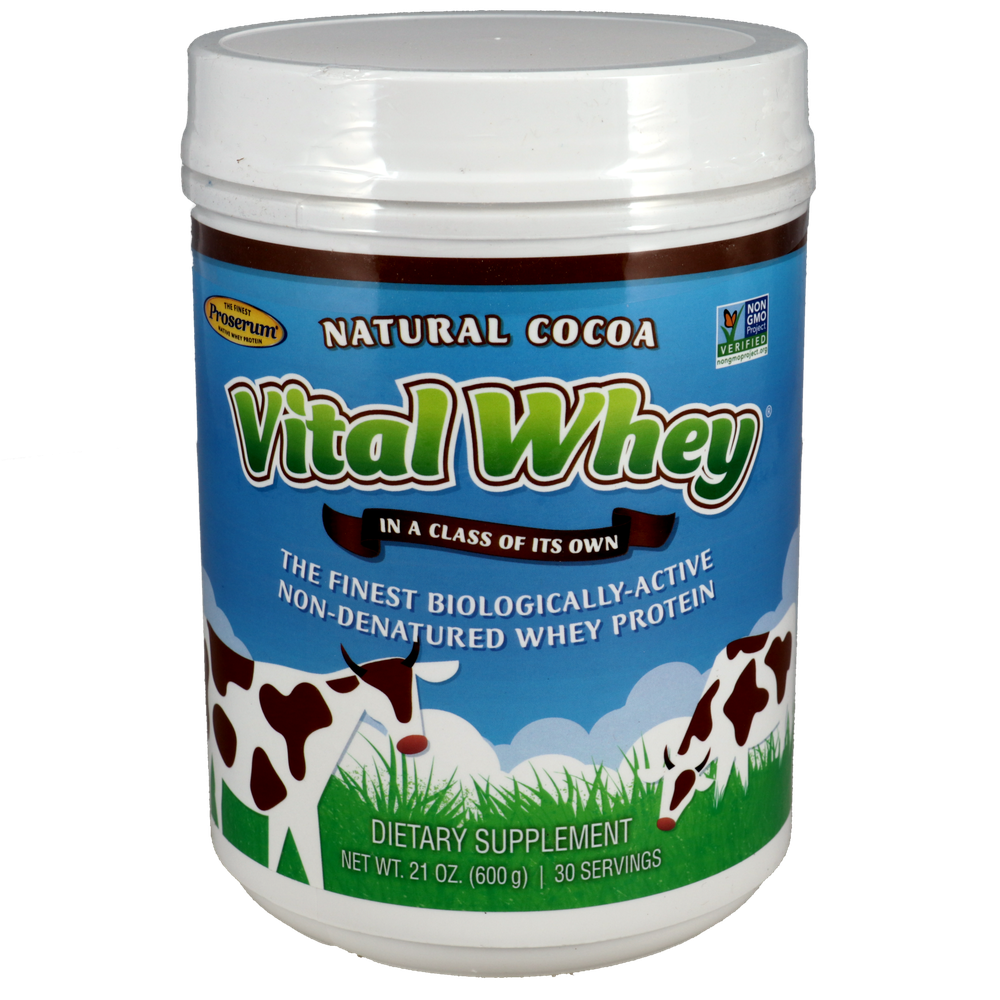 SKU: WWM-172
Vital Whey® Cocoa is made with Proserum® The Finest Whey Protein available.
The milk for this product is derived from cows that are grass-fed and graze year-round on natural pastures. It is GMO-free, hormone-treatment-free, pesticide and chemical-free and undergoes minimal processing.
Many protein powders are extensively processed during production, denaturing (destroying) many of the active proteins, eliminating many of the immune-modulating benefits. Proserum is minimally processed to maintain the maximum biological activity and immune-modulating components found in fresh milk. Minimal processing means it contains the proteins necessary to support optimal immune function, such as immunoglobulins, lactoferrin, serum albumin, active peptides and growth factors.
Our cocoa grass flavored fed powder is GMO-free, hormone-treatment-free, pesticide and chemical-free. To add flavor and sweetness to the whey, we use monk fruit extract, a plant-derived non-caloric sweetener and natural cacao for a chocolate taste. No artificial ingredients or sweeteners are added, ever.
Vital Whey® Natural Cocoa Grass Fed Whey Protein powder is a flavorful, 100% natural protein supplement perfect for all ages. It is also a great way to manage your appetite and sustain energy throughout the day. Vital Whey Cocoa fits in at home as a healthy snack for parents and their children, as well as at the gym for the perfect protein boost after a hard workout. Anyone interested in maintaining a healthy lifestyle will agree it is the Vital Whey to good nutrition.
Suggested Use:
Take 1 or more servings per day as needed.

Serving Size: 1 Scoop (20g)
Amount Per Serving
Calories ... 80
Calories from Fat ... 10
Total Fat ... 1g
Saturated Fat ... 0.5g
Cholesterol ... 19mg
Sodium ... 30mg
Potassium ... 100mg
Total Carbohydrate ... 2g
Sugars ... 2g
Protein ... 15g
Calcium ... 75mg
Immunoglobulins** ... 1850mg
Serum Albumin** ... 800mg
Lactoferrin** ... 750mg
**Naturally occuring therefore amount may vary

Other Ingredients: Proserum® native whey protein concentrate, natural flavors, gum acacia, monk fruit extract.
Contains Milk.

No wheat, gluten or preservatives.