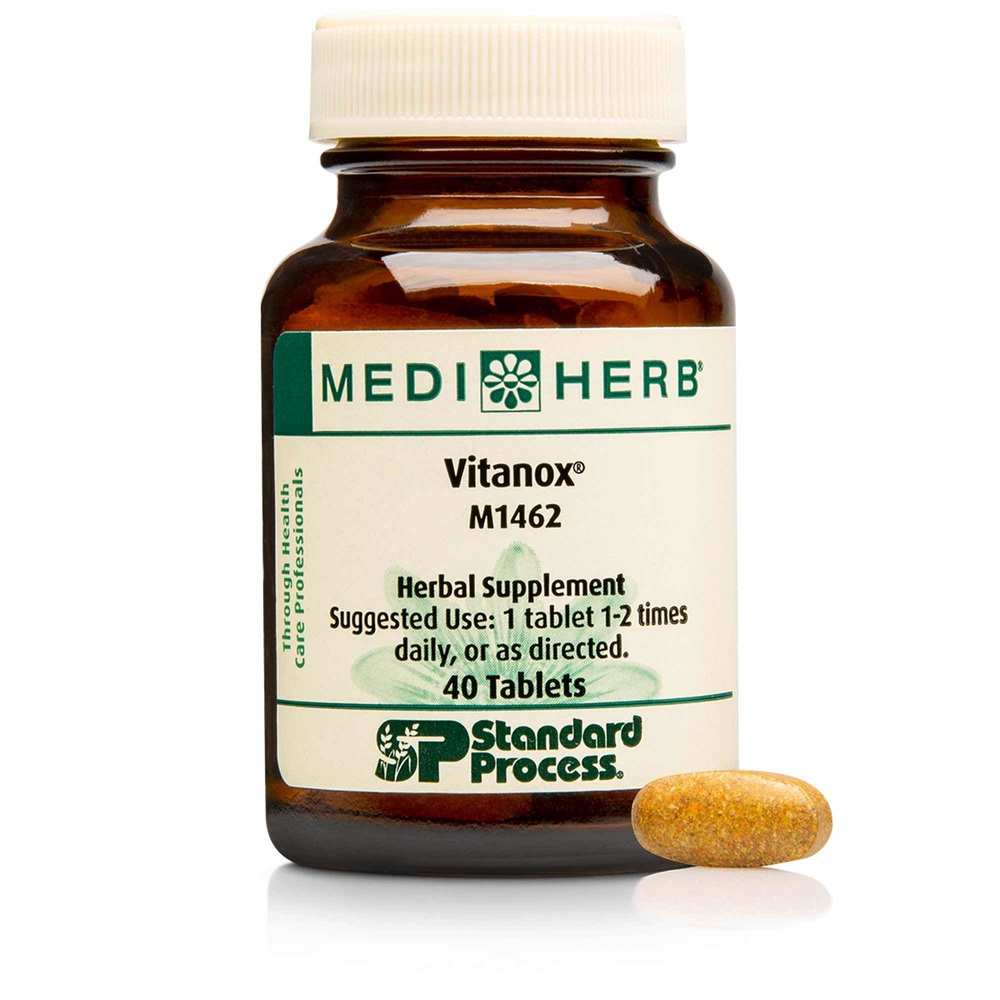 SKU: MDH-M1462
Vitanox® is an antioxidant support formula which contains Rosemary, Green Tea, Turmeric and Grape Seed. These herbs have been used in herbal preparations to:
Provide antioxidant activity
Support healthy circulation and vascular integrity
Maintain healthy connective tissue
Help support healthy liver function
Support and maintain cellular health
Support general health and well-being*
Take 1 tablet 1 - 2 times daily, or as directed.
Serving Size:
1 Tablet
Amount Per ServingCalcium
... 28mg
Rosemary leaf 5:1 extract
... 200mg
from Rosmarinus officinalis leaf 1.0 g
Green Tea leaf 25:1 extract
... 166.7mg
from Camellia sinensis leaf 4.2 gContaining catechins 83.35 mg
Turmeric rhizome 25:1 extract
... 80mg
from Curcuma longa rhizome 2.0 gContaining curcuminoids 70.4 mg
Grape Seed 120:1 extract
... 50mg
from Vitis vinifera seed 6.0 gContaining procyanidins 42.5 mg
Other Ingredients:
Microcrystalline cellulose, dibasic calcium phosphate dihydrate, maltodextrin, sodium starch glycolate, silicon dioxide, sorbitol, hypromellose and magnesium stearate.
Caution:
Contraindicated in pregnancy. Contraindicated during lactation unless otherwise directed by a qualified health care professional. Contraindicated in blockage of the gallbladder. Use only with professional supervision in the presence of gallstones. In anemia and cases where iron supplementation is required, do not take simultaneously with meals or iron supplements.