Whey Guard Repair Chocolate
Perque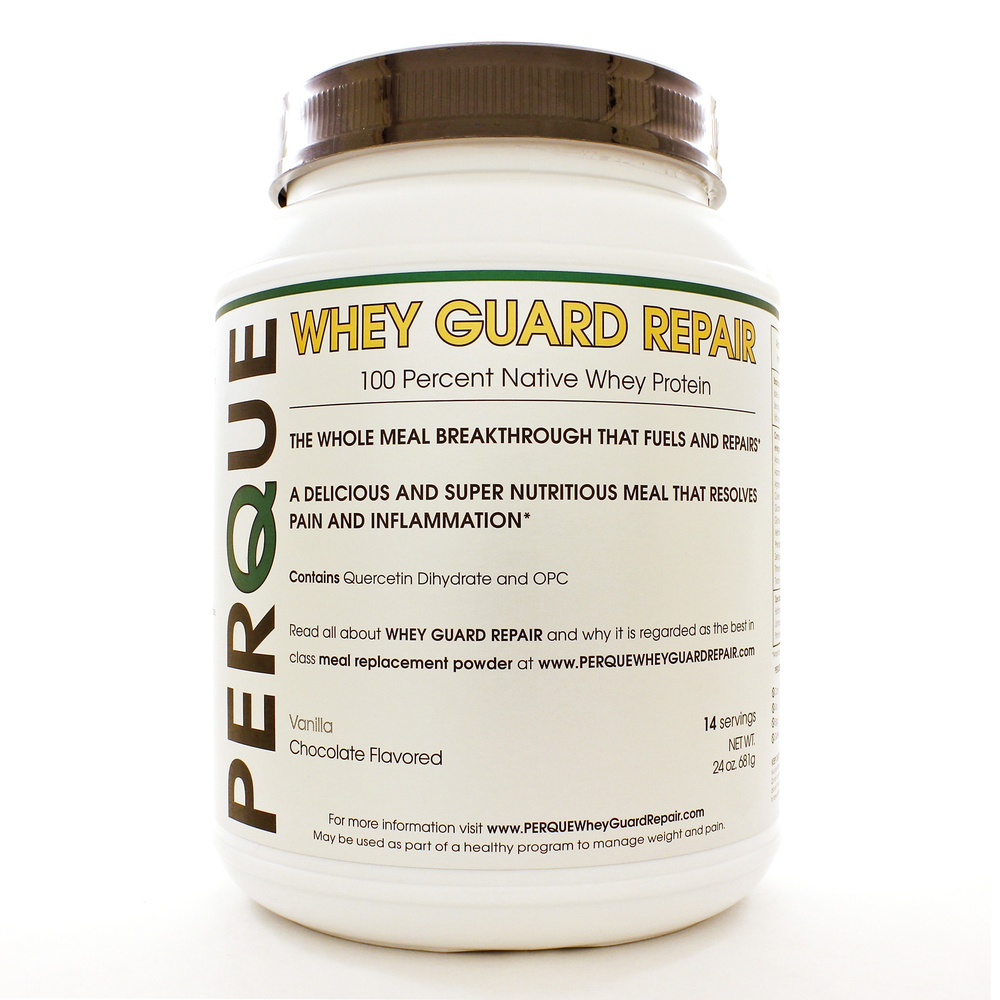 SKU: PER-811
Benefit: Provides a low calorie, whole food meal replacement for better weight management and decreased inflammation
The whole meal breakthrough that fuels and repairs*
Replace 1 meal per day (or as directed by your healthcare practitioner) with 1 serving of PERQUE Whey Guard REPAIR. Add 2 scoops (40g) of powder to 6-8 oz. of cold water and shake or blend. May also be mixed with milk, juice or fruit smoothie of your choice.
Serving Size: 2 scoops (40 g)
Amount Per Serving
Calories ... 177
Total Fat ... 1.9g
Saturated Fat ... 0.8g
Trans Fats ... 0g
Cholesterol ... 42.5mg
Sodium ... 83.3mg
Potassium ... 402.8mg
Total Carbohydrates ... 23.9g
Dietary Fiber ... 11.6g
Sugars ... 10.9g
Protein ... 16.1g
Quercetin dihydrate ... 500mg
(water soluble bioflavonoid)
OPC (ActiVin) ... 500mg
Ingredients: Native Whey Protein Concentrate by Cross Flow, fibers (dahlian, guar gum, xanthan gum), sugars (organic evaporated cane juice, maple flakes), Dutch processed chocolate (100% cacao), natural vanilla extract, quercetin dihydrate, OPC (ActiVin), milk buds, natural cream extract (butyrate rich butter fat), potassium chloride, nutmeg, monk fruit concentrate, Equisetum arvense (natural silica), MCT (from raw coconut and palm)
Free of citrus, MSG, wheat/gluten,
corn/zein/starch, dairy/casein/whey/
milk derivatives, yeast, soy, sulfate,
phosphates (other than coenzymes),
and preservatives.