Whey Guard Chocolate
Perque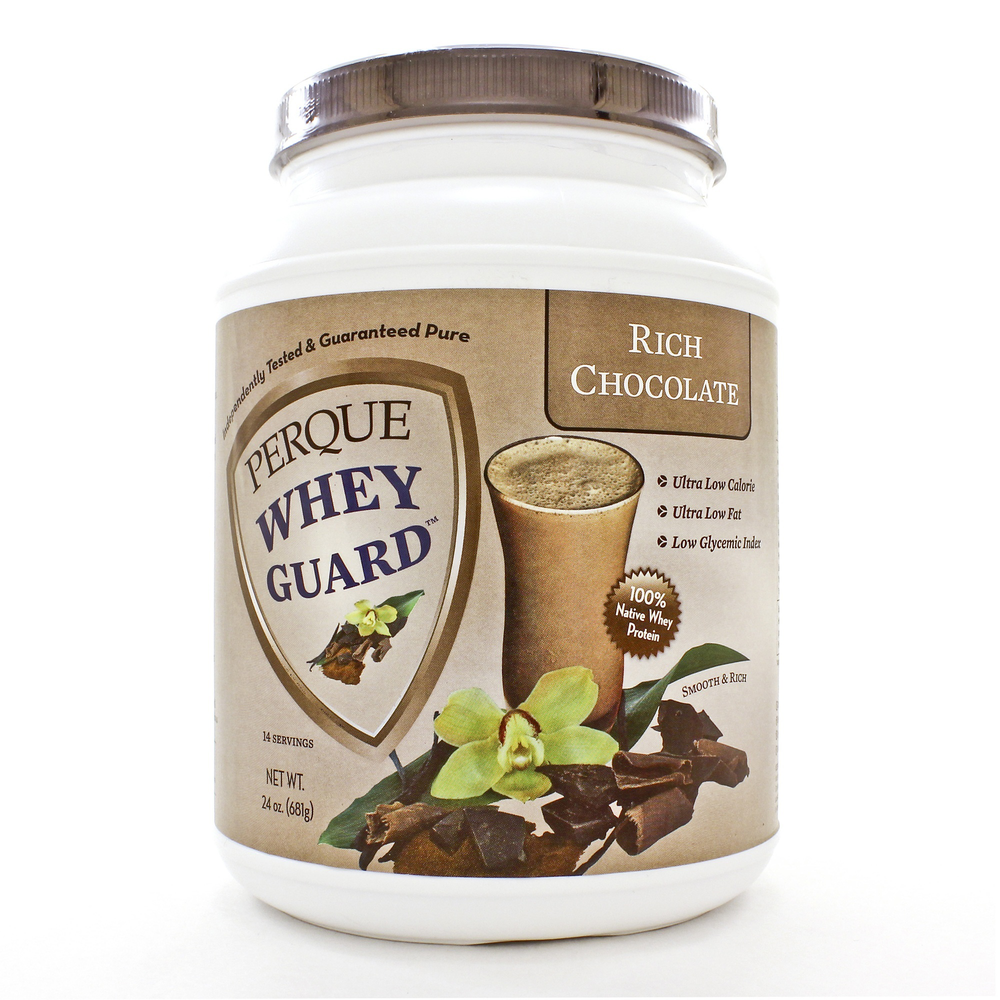 SKU: PER-802
Benefit: Provides a low calorie, whole food meal replacement for better weight management.
May be used as part of a healthy weight management program.
Add 2 heaping scoops (46.3 g) of Perque Whye Guard powder to 6-9 oz. of cold water, milk, juice or fruit smoothie of your choice daily or as directed by your health professional.
Serving Size: 2 scoops (46.3g)
Amount Per Serving
Calories ... 177
Calories from Fat ... 17
Total Fat ... 1.9g
Saturated Fat ... 0.8g
Trans Fat ... 0g
Cholesterol ... 42.5mg
Sodium ... 83.3mg
Potassium ... 402.8mg
Total Carbohydrates ... 23.9g
Dietary Fiber ... 11.6g
Sugars ... 10.9g
Protein ... 16.1g
Ingredients: Native Whey Protein Concentrate by Cross Flow, fibers (dahlian guar gum, xanthan gum), sugars (organic evaporated whole cane juice, maple flakes), Dutch processed cocoa (100% cacao), natural vanilla extract, milk buds, natural cream extract (butyrate rich butter fat), potassium chloride, monk fruit concentrate, Equisetum arvense (natural silica), MCT (from raw coconut and palm).
Acutal Amino Acid Profile in mg per serving (46.3 g)
Branch chain aminoacid; BCAA
Isoleucine (enchanced alertness; BCAA) 3047
Leucine (enhanced alertness; BCAA) 5078
Valine (enhanced alertness; BCAA) 4671
Communication, detox, energy and neurochemicals
Alanine (energy source) 1595
Aspartate (nerve energy source) 2842
Arginine (nitric oxide [NO] source) 350
Cysteine/Cystine (detox sulfur source) 1389
Glutamine/Glutamate (energy source) 10727
Glycine (detox & soothing neurotransmitter) 639
Methionine (detox sulfur source) 1472
Phenylalanine (noradrenaline source) 1321
Serine (phosphothreonine source) 2269
Tyrosine (adrenaline source) 1464
Specialized Functions
Histidine (stomach digestive source) 614
Lysine (collagen cross link source) 2300
Proline (structure source) 5013
Free of citrus, MSG, wheat/gluten,
corn/zein/starch, dairy/casein/whey/
milk derivatives, yeast, soy, sulfate,
phosphates (other than coenzymes),
and preservatives.
KEEP OUT OF REACH OF CHILDREN.
Must be store with the cap on tightly in a cool, dry place. Do not use the product if the tamper-resistant shrink band around the cap or the inner seal beneath the cap appears to have been tampered with or is missing.