Methylation Pro Topical
Neurobiologix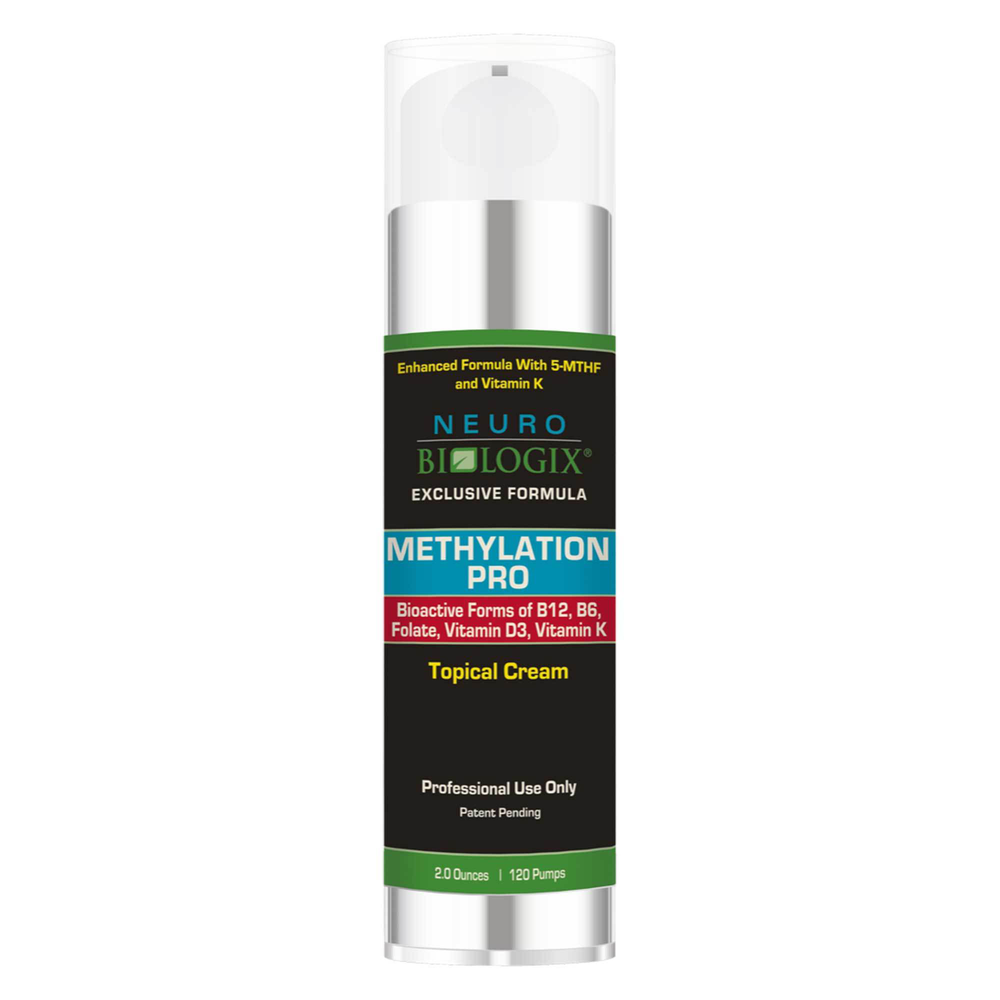 SKU: NEU866-9
Advanced Topical Cream for Neurological, Nervous & Immune System Support / Ultimate Methylation Support*
Active Ingredients: 5-Methyltetrahydrofolate (5-MTHF), Methyl B12, Hydroxy B12, Pyridoxal 5-Phosphate (B6) , 1,200 IU's Vitamin D and Vitamin K per pump.
The addition of Vitamin K in this methylation support cream created by Kendal Stewart, MD is recommended for those who are hindered by a methylation deficiency and/or a VDR Taq genetic polymorphism which inhibits the person's ability to absorb vitamin D at the cellular level without the cofactor Vitamin K. Impaired vitamin D function due to this polymorphism can result in significant immune weakness, early bone loss and increased risk of cognitive decline and mood issues.*
As a solution, our unique topical delivery system assures that our professional grade Methylation Pro promotes and enhances the methylation processes needed to improve the production of glutathione, increase Vitamin D levels and allow maximum B12, B6 and vitamin delivery to the nervous and immune systems. This potent nutrient-rich cream may help maximize and aid in:
Mood Improvement & Stabilization*
Mental Focus & Concentration*
Organization Skills*
MTHFR Mutations*
Short Term Memory Loss*
Supporting a healthy sleep cycle*
Immune Function and low vitamin D levels*
Patients with a VDR Taq mutation (SNP)*
Such nutrients as Pyridoxal 5-Phosphate (B6) and Vitamin B12 in a methylated form called methylcobalamin (Methyl B12) and hydroxycobalamin (Hydroxy B12) and natural Vitamin D and K assist the body neurologically and physically.*
Suggested Use:
Recommended Dosage:
1 pump twice daily - 1 pump in AM, 1 pump in PM 2-3 hours prior to bedtime.
Extra Dosages:
1 pump three times daily - 1 pump in AM, 1 pump Mid-Afternoon, 1 pump 2-3 hours prior to bedtime.
Recommended areas for application:
Above wrists on inside of forearms, inner thighs, lower back. Depending on origin of placement absorption may vary. Wait at least 30 minutes after application before showering or bathing for maximum absorption and apply to areas that do not have hair.
Serving Per Container:
120 Pumps
Amount Per Serving
L-5-MTHF (L-5-Methyltetrahydrofolate & Quatrefolic) Blend … 4 mg
Folinic Acid … 1 mg
Hydroxocobalamin (B12) … 1 mg
Methylcobalamin (B12) … 1 mg
Pyridoxal- 5-Phosphate (B6) … 1 mg
Vitamin D3 … 1200 IUs
Vitamin K1 … 100 mcg
Vitamin E … 25 mg
Active Ingredients:
Water (Reverse Osmosis), Propanediol Vitamin E (D-alpha Tocopherol),Polyacrylamide (And) C13-14 Isoparaffin (And) Laureth-7, Caprylic/Capric Triglycerides, Vitamin K-1 (Phylloquinone Aka Phytonadione), Urea, Glycerin, Phenoxyethanol, Cetearyl Alcohol (And) Ceteareth-20, Cocos Nucifera (Coconut) Oil, Vitamin B-9 Folate (L-Methylfolate, Calcium Salt), Folinic Acid, Citric Acid, Vitamin B-6 (Pyridoxal-5-Phosphate), Rosa Canina (Rose Hips) Fruit Extract, Citrus Aurantium Dulcis (Orange) Peel Extract, Vitamin D-3 (Cholecalciferol In MCT), Aloe Barbadensis (Aloe Vera) Whole Leaf, Citrus Grandis (Pink Grapefruit) Peel Essential Oil, Gardenia Jasminoides Fructus Fruit Extract, Vitamin B-12 (Hydroxycobalamin), Vitamin B-12 (Methylcobalamin), Panthenol (Pro-vitamin B5), MSM (Methylsulfonylmethane), Sodium Hyaluronate (Hyaluronic Acid), Quatrefolic Folate (Glucosamine Salt Of (6S)-5-Methyltetrahydrofolate).
Note: The color of the cream is a deep orange color due to methylated B vitamins being red/orange in color. Once rubbed in the color will dissipate and absorb into the skin but do not bathe or wash area 30 minutes after application.
Due to the ingredients in our products being from natural sources, they can vary in color or smell. Variances in color and smell often are indicative of the quality and purity of particular products.