Reacted Multimin - California Only
Ortho Molecular Products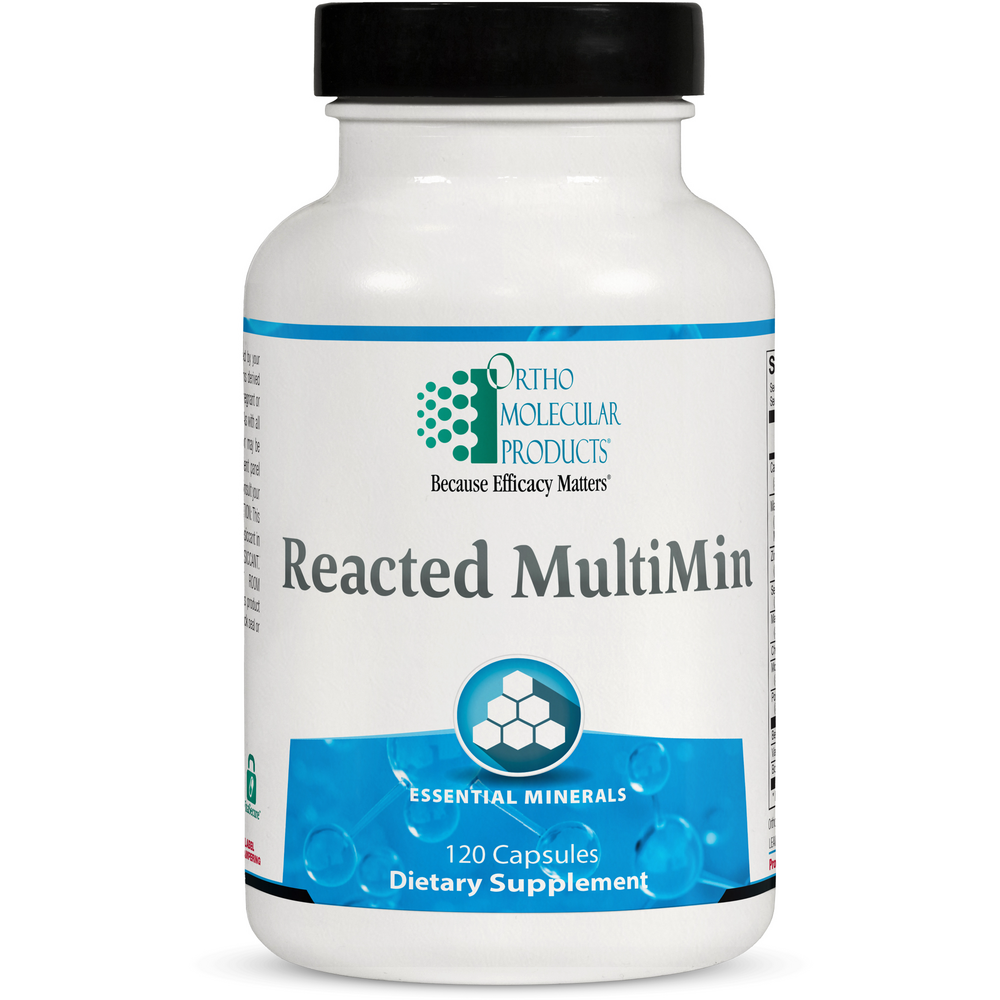 SKU: OHM-249120C
Reacted MultiMin includes broad-spectrum mineral support for a variety of protocols.
Provides Broad Spectrum Mineral Support for a Variety of Protocols
Supports Any Bone-Building Protocol
Increases Skeletal Strength and Promotes Healthy Bone Density
Numerous studies have reported that adequate mineral levels play an essential role in supporting optimal health by supporting bone, muscle and cardiovascular health. It is a challenge for most individuals to consume the perfect variety of minerals through their daily diets and maintain mineral balance. Supplementation of a high quality daily multimineral may provide benefit for those wishing to meet their recommended daily requirements of important macro-minerals and trace minerals.
Reacted MultiMin provides an ideal balance of highly-absorbed minerals combined with the benefits of betaine HCl to prime digestion and improve the absorption of vitamins and minerals. Reacted MultiMin provides mineral amino acid chelates in optimal ratios to help the body maintain mineral balance and avoid competition between minerals for absorption.
Suggested Use:
Take 4 capsules in divided doses per day or as recommended by your health care professional.
Serving Size: 4 Capsules
Amount Per Serving
Calcium … 300mg
(as TRAACS® Calcium Bisglycinate Chelate)
Magnesium … 150mg
(as DiMagnesium Malate, TRAACS® Magnesium Lysinate Glycinate Chelate)
Zinc … 25mg
(as TRAACS® Zinc Bisglycinate Chelate)
Selenium … 190mcg
(as Selenium Glycinate Complex)
Manganese … 5mg
(as TRAACS® Manganese Bisglycinate Chelate)
Chromium … 190mcg
(as O-polynicotinate)‡
Molybdenum … 45mcg
(as TRAACS® Molybdenum Glycinate Chelate)
Potassium … 90mg
(as Potassium Glycinate Complex)
Betaine Hydrochloride USP … 45mg*
Vanadyl Sulfate Hydrate … 3mg*
Boron … 45mcg*
(as BororganicTM Glycine)
Other Ingredients: Natural Vegetable Capsules, Microcrystalline Cellulose, Magnesium Stearate, Stearic Acid, and Silicon Dioxide.
Does Not Contain: Gluten, yeast, artificial colors and flavors.
Caution: If you are pregnant or nursing, consult your physician before taking this product.