Thyroxal™
Apex Energetics, Inc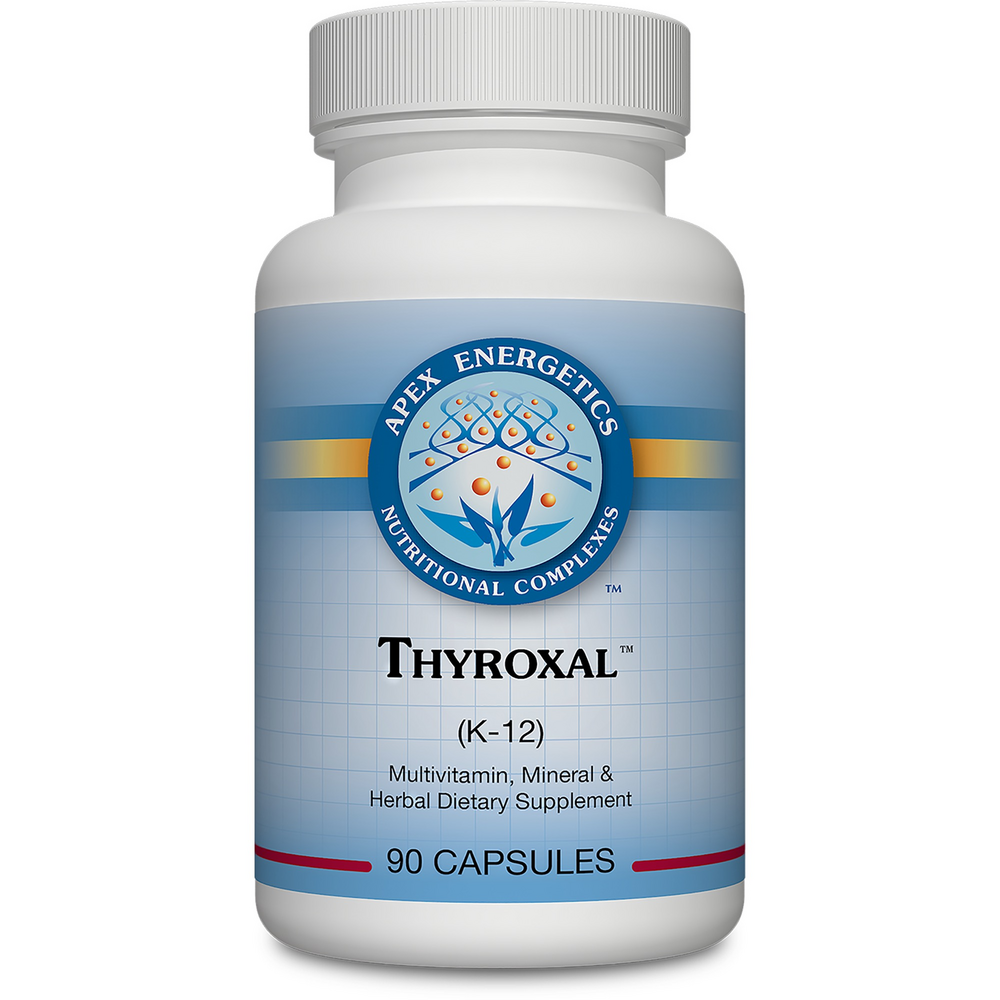 SKU: APE949-K12
Thyroxal™ is intended to support the thyroid and its interactions with the endocrine system.* This product has bovine thyroid glandular, coenzymes, and phytonutrients such as ashwagandha root extract at 275 mg per capsule. This formula is an excellent source of vitamin A, niacin, zinc, selenium, and copper. It also includes high potency vitamin B6 and riboflavin.
Benefits
Supports the thyroid gland and tissues*
Supports the related thyroid hormones*
Supports the immune system*
Includes ingredients that may be involved in antioxidant processes*
Take 1 capsule 2 times a day, or as directed by your healthcare professional.
Serving Size:
1 capsule
Amount Per ServingVitamin A
... 300mcg RAE
(as retinyl palmitate) (1000 IU)
Vitamin D
... 2.5mcg
(as cholecalciferol) (100 IU)
Riboflavin
... 20mg
Niacin
... 15mg NE
(as niacinamide)
Vitamin B6
... 5mg
(as pyridoxal 5'-phosphate)
Magnesium
... 30mg
(as magnesium citrate)
Zinc
... 10mg
(as zinc glycinate)
Selenium
... 20mcg
(as L-selenomethionine)
Copper
... 0.2mg
(as copper gluconate)
Manganese
... 5mg
(as manganese gluconate)
Bromelain
... 12mg
(plant enzyme)

Ashwagandha Extract
... 275mg
(Withania somnifera) (root)
Thyroid
... 75mg
(bovine)
Proprietary Blend
... 38.5mg
Betaine HClPeptidaseCoQ10 (as ubidecarenone)
Other Ingredients:
Capsule (gelatin), cellulose, dicalcium phosphate.
Does not contain: Gluten, soy, milk
Caution:
Consult your healthcare professional before use if pregnant, nursing, taking medications, or for any use by minors. Do not use if safety seal is broken or missing. KEEP OUT OF REACH OF CHILDREN.